The Werewolf and His Boy
by Warren Rochelle
Their leap of faith could unleash magic—or plunge them into darkness.



Henry Thorn has worked at Larkin's since graduating high school. He likes it—especially when he can use his secret skill of hiding inside shadows so his boss can't find them. Without that talent, he would never had survived growing up different.

When a hire enters the store, Henry's other latent talent kicks in. He can smell an emotional response even before he lays eyes on the redhead.

Jamey Currey came out, and his conservative parents promptly kicked him out. He, too, is different—he senses Henry's attraction the moment they met. The first time they kiss, torrential rains fall from skies split by lightning.

Their kiss also awakens the Watchers, diabolical hunters who will stop at nothing—even extermination—to keep magic suppressed. With the help of a friendly coven of friendly witches, the boys embark on a quest to discover an ancient key to restoring magic to the world, and to understand mysteries of their own hearts.

The question is, will this quest cost them their lives?
Giveaway
Warren is giving away a $20 Amazon gift card with this tour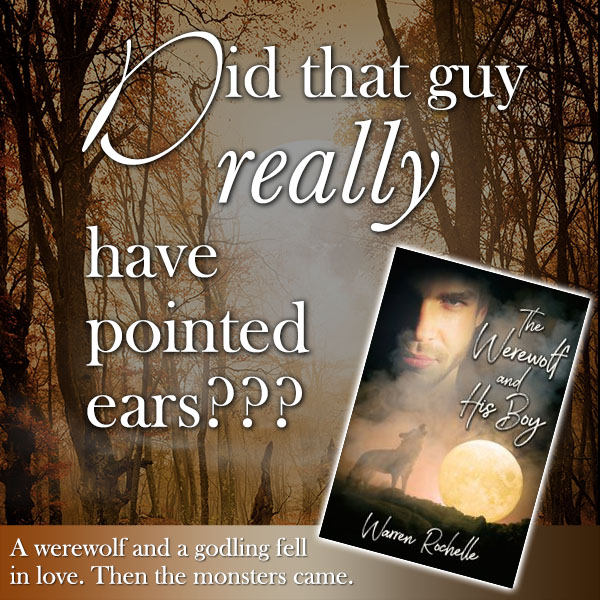 Excerpt
Jamey woke up. He sat up slowly, rubbing his eyes as he pushed back his hair, and remembered where he was. He looked down: his five-pointed star lay on his bare chest. He was naked. The star vibrated, sort of like the pads passed out in restaurants that buzzed when orders were ready. He and Henry, naked, sex, Larkin's, the storage room, the Special Orders bins. A tall cardboard box was at his back. Clothing—shirts, pants, socks, underwear—littered the floor around him. Shoes, his and Henry's, were tumbled on top of each other. The clipboard lay between the shoes and the clothes. Henry's pentacle lay on the clipboard, its silver-grey chain looped around it.
"Henry?" Jamey said softly. "Where'd you go? Not like you to wander off and leave me, yeah? I mean, we just did it." He got to his feet, picked up Henry's pentacle and looked around their corner of the storage room. Nothing but the Special Orders: screens, flooring, and any number of odd-shaped cardboard boxes. "Henry?" Jamey called, worry in his voice.
No one answered.
Jamey called again, afraid to raise his voice too much, afraid that Eduardo was roaming the store, "walking the fences," as he liked to describe his checking on what everybody was doing. Jamey and Henry should be almost, if not done, with the inventory. If Eduardo or anybody else found him and Henry naked, surrounded by pretty convincing evidence of sexual activity, he was sure they would be fired. This was stupid. We should've waited until we were at his place. Stupid, stupid, stupid.
He was gathering up his shirt and underwear, when something growled.
Jamey turned around slowly. A big black dog was walking toward him, sniffing. No, a wolf. The Larkin's wolf. The same wolf that was being blamed for chasing one guy, attacking and killing two other guys. The same wolf that seemed to have brought packs of wolves into Richmond along with it. It stood there, a few feet away, growling, panting and looking straight at him. No ghost. This was the real thing.
Jamey dropped his clothes and ran, clutching Henry's star tight in his hand.
The wolf ran after him.
Down the aisle, left, right, down another aisle, boxes, boxes, into the main store, right again, gasping, looking back, the wolf just behind him, Kitchen Cabinets, then Appliances, one washing machine after another, dishwashers, a left between silvery refrigerators, into a wide main aisle, his bare feet slapping the floor, the wolf panting. He felt nakeder than naked. A right, back into Appliances, straight for the break room and the office, just as Eduardo was coming out of the door.
"Hijo de puta, what the fuck are you doing running around stark naked? Have you lost your fucking mind?"
"Heellllp me, it got Henry," Jamey yelled and kept running.
"You are a fucking idiota. I'm gonna fire your naked ass," Eduardo shouted after him.
Jamey ran. Behind him, he could hear Eduardo yelling, "Dios mio. El lobo? Dios mio, dios mio, ayúdame, por favor …"
Flooring &Tile. Oak, cherry, iced sycamore. Left, back into the wide aisle, and the Garden Center, and straight ahead, a thicket of Norfolk Island pines in tubs, just in for Christmas. Jamey gasped and his sides aching, as he tripped, fell, and rolled until he hit the pines. He tried to get up but couldn't. His ankle. It hurt like hell and there was the wolf, less than a yard away, watching him. Somewhere he could hear shouting and running. He could hear the wolf breathing.
"Go ahead, eat me," Jamey said, realizing he'd meet the same fate as Henry. He couldn't run. He pushed himself off the floor until he was on his hands and knees, his buttocks against a Norfolk Island pine he had knocked over when he fell. The floor was cold and damp, the pine prickled his bare ass.
Jamey stared at the wolf. Those ears. The beautiful eyes, human eyes. It took another step forward, turning its huge head to one side. "Henry?" Jamey whispered. The wolf stopped when Jamey said Henry's name.
"Henry?" Jamey whispered again. This couldn't be happening. But it wasn't some kind of dream. He could smell the wolf's breath. If the animal got any closer he would be able to feel its breath on his skin. And the wolf hadn't made any truly aggressive moves, except for growling. It hadn't jumped him; it had only run just fast enough to stay right behind him.
Somehow Jamey was sure a real wolf would be behaving very differently. A wild wolf wouldn't be inside Larkin's for one thing. Nor would it be walking toward him one hesitant step at a time.
"Henry?"
He felt the wolf's hot breath. Jamey could hear more shouting, car doors slamming. He glanced toward the Garden Center cash register at the door. A police car must have turned in the parking lot; the flashing blue lights were just visible. The wolf nudged Jamey's cheek with its cold nose, then licked his face.
"I don't get it—this doesn't make sense—but Henry—you're the Larkin's wolf?" Jamey whispered. He took the pentacle in his hand and gently eased it over the wolf's head. The wolf licked his nose. "Henry, please come back to me."
A door banged open. "Get away from the animal—NOW." A cop burst through the Garden Center door, followed by another, rifles aimed at the wolf.
"Don't shoot, don't shoot, please, please, don't shoot," Jamey yelled. The wolf pushed its head into Jamey's chest and he pulled it on top of him, the weight of the wolf taking him down to the floor. He hugged it as close as he could, wrapping his legs around it, praying they wouldn't shoot, and he felt the wolf's body shifting in his arms, against his bare skin. The animal groaned, whimpered, whined, pressed closer, harder, and its body grew smaller, lighter. The fur receded, the ears shrank, lost hair, the tail retracted, disappeared, claws, fangs. Jamey kept hugging the wolf until he was hugging Henry, as naked as he was, a pentacle like his around Henry's neck, on the floor in the Garden Center, by the Norfolk Island pines, the police a few feet away.
"Don't let go, Jamey," Henry finally gasped, breathing hard against Jamey's neck.
Jamey felt Henry hugging him back. "I won't; I won't let you go," Jamey whispered, stroking Henry's warm back, his thick hair.
Author Bio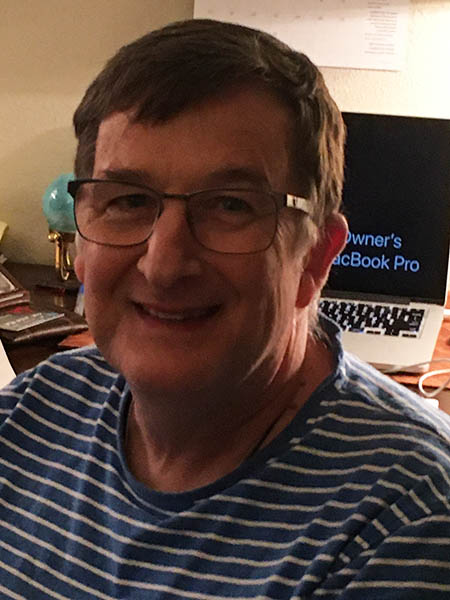 Warren Rochelle lives in Charlottesville, Virginia, and has just retired from teaching English at the University of Mary Washington.
His short fiction and poetry have been published in such journals and anthologies as Icarus, North Carolina Literary Review, Forbidden Lines, Aboriginal Science Fiction, Collective Fallout, Queer Fish 2, Empty Oaks, Quantum Fairy Tales, Migration, The Silver Gryphon, Jaelle Her Book, Colonnades, and Graffiti, as well as the Asheville Poetry Review, GW Magazine, Crucible, The Charlotte Poetry Review, and Romance and Beyond.
His short story, "The Golden Boy," was a finalist for the 2004 Spectrum Award for Short Fiction. His short story "Mirrors," was just published in Under A Green Rose, a queering romance anthology, from Cuil Press. "The Latest Thing," a flash fiction story, is in the Queer Sci Fi anthology, Innovation.
Rochelle is also the author of four novels: The Wild Boy (2001), Harvest of Changelings (2007), and The Called (2010), all published by Golden Gryphon Press, and The Werewolf and His Boy, published by Samhain Publishing in September 2016. The Werewolf and His Boy was re-released from JMS Books in August 2020. The Wicked Stepbrother and Other Stories is forthcoming from JMS Books in late September 2020.
Facebook | Facebook Page | Twitter | Goodreads
Promotional post. Materials provided by