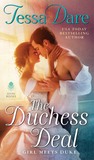 From the blurb:
When girl meets Duke, their marriage breaks all the rules…
Since his return from war, the Duke of Ashbury's to-do list has been short and anything but sweet: brooding, glowering, menacing London ne'er-do-wells by night. Now there's a new item on the list. He needs an heir—which means he needs a wife. When Emma Gladstone, a vicar's daughter turned seamstress, appears in his library wearing a wedding gown, he decides on the spot that she'll do.
They will be husband and wife by night only.
- No lights, no kissing.
- No questions about his battle scars.
- Last, and most importantly… Once she's pregnant with his heir, they need never share a bed again.
But Emma is no pushover. She has a few rules of her own:
- They will have dinner together every evening.
- With conversation.
- And unlimited teasing.
- Last, and most importantly… Once she's seen the man beneath the scars, he can't stop her from falling in love…
Heather's rating:
I debated my rating a bit for this one but decided to round up as the narration from
Mary Jane Wells
was very good and the story was fun, more like a romantic comedy, which is what I needed in my life at that moment.
I will always love
Tessa Dare
and buy her stuff. She is like crack for me, and even if I read a book from her that I don't 5-star, I know I'll eat up the other books in the same series.
I have a big weakness for a scarred MC, and I loved how we got a MC that wasn't just a little scarred but
really
scarred. We don't see too much of that in romance, and I was really interested in the male MC and his story.
The romance was fun and the banter was good, but there was just something a wee bit forced about it for me. The pairing was a super-stretch, so you have to overlook that. YMMV.
If you want a comedy romance with a great narration, then pick this one up. Tessa Dare is always a sure thing.
Enjoy, my friends!