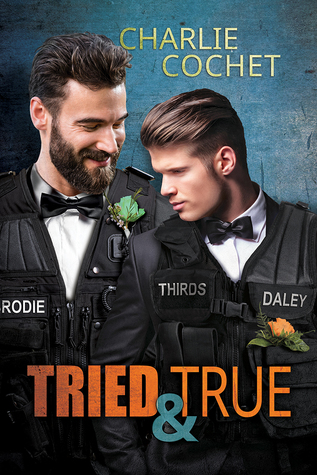 From The Blurb:
Sequel to Darkest Hour Before Dawn
When THIRDS agent Dexter J. Daley met Team Leader Sloane Brodie, he couldn't have imagined how slamming into his new partner—literally—would shake both their worlds. Now four years later, they've faced dangers, fought battles both personal and professional… and fallen deeply in love. Now their big moment is finally in sight, and they're ready to stand up together and make it official. Unfortunately, as the countdown to their big day begins, an enemy declares war on the THIRDS….
With their family in danger, Dex and Sloane are put to the test on how far into darkness they'll walk to save those they love. As secrets are unearthed, a deadly betrayal is revealed, and Dex and Sloane must call on their Destructive Delta family for one last hurrah to put an end to the secret organization responsible for so much devastation.
Dex and Sloane will have plenty of bullets to dodge on the way to the altar, but with happiness within their grasp, they are determined to get there come hell or high water….
Karen's rating:
There's never a dull moment in the lives of Destructive Delta...
'Tried and True' was so much of what I'd hoped for in this story. There were so many answers to a lot of questions and things have taken a decided shift towards what's yet to come.
The tenth book in the THIRDS series ironically started a little bit on the slow side for me but I really didn't mind. It was good to ease into things with them and so worth it. This is it folks...the moment we've all been waiting for...for quite a while now. Dex and Sloane are tying the knot...or at least they will if they can manage to get to the alter in one piece because needless to say as is often the case with the members of THIRDS the road to love is not smooth...oh hell, who am I kidding there are no smooth roads to anywhere with this group. But they are indomitable and no matter what comes their way...they are family, they have each other's backs.
I loved all of the things that we learned with this story...Ms Cochet gave us more about Wolf, about Sparks and about Sparks relationship with Tony, so much more about the Makhai and yet, I have the feeling that we've barely scratched the surface on this group and Dex...he's changing so much. One can't help but wonder when the changes will end and to what extent Dex will change. Even though we really didn't learn more about him, we got more Austin...I admit it, I'm a total Austin fanatic and I can't wait to get his story, I want some happy for Austin...so much happy for Austin and I'm really, really trying to be patient but...well,it's hard so needless to say whatever peeks I can get of Austin...any little tidbits of information, anything at all is always appreciated and I have to admit I'm starting to really want more Wolf. I have the feeling his story is going to be a white knuckle ride.
But in the meantime 'Tried and True' was a 'THIRDS' fan's delight. We were given action, danger, suspense, sexy times, humor, romance, love, a tiny bit of heartache, answers to questions, more questions in need of answers and best of all at the end of it all we got to go to a wedding and share Dex and Sloane's big day with them and the rest of the THIRDS team and in true Dex style it was a wedding unlike any other.
If you've never read this series, this is honestly a good time to get on board. This book came along at just the right time. It's got a sense of closure to it because things are changing but at the same time it brings with it a wonderful sense of more. I honestly can't wait for the next book in this series because I simply love this collection of characters but I'm not feeling like I got left sitting precariously on the edge of a cliff, more like I'm at a wedding and the dinner's over and I'm waiting for the dancing to begin.
*************************


A copy of 'Tried and True' was graciously provided by the publisher in exchange for an honest review.
Buy this book:
Reading gives us someplace to go, when we have to stay where we are. (Mason Cooley)
Buylinks are provided as a courtesy and do not constitute an endorsement of or affiliation with this book, author or booksellers listed.