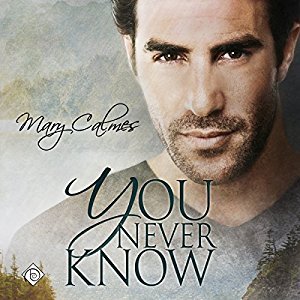 From The Blurb:
Hagen Wylie has it all figured out. He's going to live in his hometown, be everybody's friend, explore new relationships, and rebuild his life after the horrors of war. No muss, no fuss is the plan. He's well on his way—until he finds out his first love has come home too. Hagen says it's no big deal, but a chance encounter with Mitch Thayer's two cute sons puts him directly in the path of the only guy he's never gotten out of his head.
Mitch returned for three reasons: to raise his sons where he grew up, to move his furniture business and encourage it to thrive, and to win Hagen back. Years away made it perfectly clear the young man he loved in high school is the only one for him. The problem? He left town and they have not talked since.
If Hagen's going to trust him again, Mitch needs to show him how he's grown up and isn't going to let go. They could have a new chance at love… but Hagen is insistent he's not reviving a relationship with Mitch. Then again, you never know.
Karen's rating:
You never know...but I probably should have...
I probably should have skipped this one on audio...but it's Mary Calmes, and the narrator was Greg Tremblay, and well...willpower, I has none.
I have to admit this one isn't my favorite Mary Calmes book...not even in the top 5 but that's life, right? We can't love everything, every time, and this, it seems, is no exception.
While I once again loved Greg Tremblay's narration of this story and definitely had no issues there and if I'm rating just the narration I'd probably be giving this 4 stars at the very least...nope, once again my issues were the story itself and at the end of the audio book I found that when it came down to it my feelings haven't changed I still really like Hagen. He's an easy guy to like...kind, friendly, loyal and way, way more forgiving than most people deserve...as a matter of fact if there's one thing about Hagen that bothered me it was how forgiving he was but I'm always saying that everyone deserves a second chance so I guess I really can't fault him now, can I?
Unfortunately just like my feelings for Hagen...my feelings about Ash and Mitch didn't change either. Ash for me was still totally self-centered and self absorbed and in case I forgot to mention it the first time he's also manipulative as hell...nope, not liking Ash at all.
Mitch was a little better for me but not a whole lot. He's suppose to be the love of Hagen's life and while I do understand that a lot of what happened really was very much related to age and circumstance. I still wanted to feel more like he regretted leaving Hagen but most of all I wanted to feel like he regretted how he did it...over the phone, ffs!!! That's just cold and somewhere in there maybe if I felt like Mitch truly realized how much he hurt Hagen...but I didn't get any of this when I read the book nor did I feel it when I listened to the audio book and I realize that other readers/listeners may feel very differently and that's cool I don't think they're wrong but neither am I this is a very subjective issue and there don't have to be rights and wrongs when it comes to this...things just are what they are.
So at the end of it all still just 3 stars from me for this one, but...
Mary Calmes + Greg Tremblay, still 'equals' a happy place for me.
************************
An audiobook of 'You Never Know' was graciously provided by the publisher in exchange for an honest review.
Buy the audio book:
Reading gives us someplace to go, when we have to stay where we are. (Mason Cooley)
Buylinks are provided as a courtesy and do not constitute an endorsement of or affiliation with this book, author or booksellers listed.