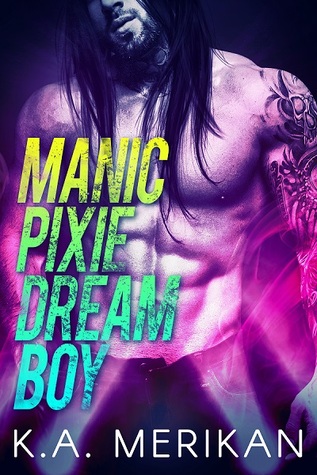 From The Blurb:
---. You can't hide the cracks under the spotlight .---
Dusk. Leader of The Underdogs. Destined for greatness. Lives in the now.
Abe. AKA Lolly. Iridescent. Unicorn.
All Dusk wants out of life is for his band to become world famous. He also wants to have a lot of fun along the way. And to get his rocks off. When he wants something, he goes for it, consequences be damned.
So when he sees a gorgeous pink-haired guy who is the human equivalent of tattooed cotton candy, he can't help but have a taste. But it's when Lolly ends up on their tour bus that Dusk knows their meeting was destiny.
Abe is the kind of guy who goes with the flow. He was hitchhiking anyway, so why not spend the week with a hot piece of rocker beefcake, getting smothered by his sexy long hair? And why not play the part of the supportive cutie while he's at it? It's not like he'd be sticking around for long anyway.
All plans hit a wall when photos of Abe and Dusk emerge online, suddenly pushing the band into the spotlight. To take advantage of the sudden popularity, the band offers Abe money for staying.
Which means money for being in a fake relationship with Dusk.
Which isn't even fake.
Or is it?
POSSIBLE SPOILERS:
Themes: rock band, alternative lifestyles, tattoos, bisexuality, commitment, instalove, abandonment issues, fame, outing, coming out, life on tour
Genre: Contemporary M/M Rocker Romance
Heat level: Scorching hot, explicit scenes
Length: ~52,000 words (Can be read as standalone, HEA)
Karen's rating:
This may have gotten off to a bit of a shaky start but
...
at the end of it all things worked out quite nicely.
When I first started reading this book I also started to worry...I like K. A. Merikan and am a total fan of their series 'Guns & Boys', I found 'Hipster Brothel' to be an adorable story and their 'Sex & Mayhem' series isn't on my TBR list it's on my 'why haven't I read this yet' list, so I admit when I first started this I also started to worry because a small voice in my brain quickly began to whisper..."Stop, right now...stop reading and step away from the e-reader...even you cannot handle this much fluff." but there was another voice whispering and it was saying "No, you need to keep reading...have faith, things aren't always as they seem." so after a bit of internal debate during which no other voices decided to take part...thankfully, because it definitely would have been therapy time at that point, I came to the conclusion that I needed to keep reading.
Sometimes it pays not to follow your first instinct because if I had I would have missed out on a story that it turns out I really, really enjoyed. The first part of this book on it's own just didn't work for me and had things continued in that vein I probably would have either done a dnf or this would be a '2 what the hell did I just read' stars review, but that's not what happened and things clicked and connections got made for me and at the end of it all it's 4 'WOW' I really liked that stars. I'm quite comfortable saying that if the first part of the book had worked for me as well as the last this would easily have been a 5 star review.
I'm not often a fan of rock star stories and this one started out as 'rock star meets boy, rock star screws boy' fluff, fluff, fluff...until somewhere along the way boy started to challenge rock star, display a bit of himself and rock star started to realize the world didn't revolve around him...that maybe he head to do more than just be, if he really wanted this person to stay a part of his life.
For me this wasn't a case of miscommunication it felt more like 'finally communicating' and when that happened I started to become invested and I became a fan. I absolutely loved the ending of this one it made me happy and was well done and I'm very much a fan of the fact that this is the first book in a series because there's more we need from this group...I want to know what's up with Mage and Dawn? Where will things end up with Sid and Stan? Also could we please see a bit more of the fanboy 'Baby Blue' I thought he was sweet and I'd love to see him get a story...see more! We definitely need more and I'm sure that I'm not the only one who wouldn't be opposed to more Dusk and Lolly/Abe.
********************


An ARC of 'Manic Pixie Dream Boy' was graciously provided by the authors in exchange for an honest review.
Buy this book:
Reading gives us someplace to go when we have to stay where we are. (Mason Cooley)
Buylinks are provided as a courtesy and do not constitute an endorsement of or affiliation with this book, author or booksellers listed.