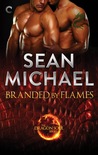 From the blurb:
Meet the Beteferoce brothers. Five dragon shifters, each with a strong elemental power. And each with a fierce desire to find his soul mate…

For years, dragon-shifter-slash-firefighter Jake has been searching for his mate, but he's beginning to tire of the search. Maybe soul mates are only for the lucky few.

Then he meets Shae.

A former navy welder, Shae is handsome, talented, into power play and rough sex, and covered in dragon tattoos. All of this suits the shape-shifting dragon just fine—until he finds out that Shae literally has Jake's family crest already tattooed on him. A coincidence? Or something more…

Jake must convince Shae to trust him as a man and as a Dom before the heat between them burns out of control. Becoming a dragon's mate is not without danger, and Shae will need Jake's guidance—and love—if he's going to make it through alive.
Heather's rating:
If it wasn't for the fact that I was into the kink, I would give this book 1 or 2 stars. However, it just so happens that I'm a dirty girl, and spanking, fingering, and non-stop booty play... well, it called to me.
This book is 95% sex. I'm not exaggerating. The ENTIRE book revolves around sex.
Branded by Flames
is a dragon-shifter book, but the paranormal stuff is really just an excuse for dragon-themed tattooing, piercing, and super-human strength... all of which serve to further the kinks in the book.
Pain play? Check! LOTS of butt plugging, power plays, and dildo work? Check!
Plot... not so much.
Okay, listen, this book isn't going to win any awards for writing or world-building. It is basically two guys having super hot sex and eating dozens of steaks, over and over again. But something about it
turned my crank
. It is that magical
Sean Michael
dirtiness that just worked for me!
If you want a book that is mostly PWP and are into some BDSM stuff, but mostly just lots of sex, I'd try this book. I'm actually really looking forward to the rest of the series.
*Copy provided by the publisher in exchange for an honest review*
Enjoy, my friends!