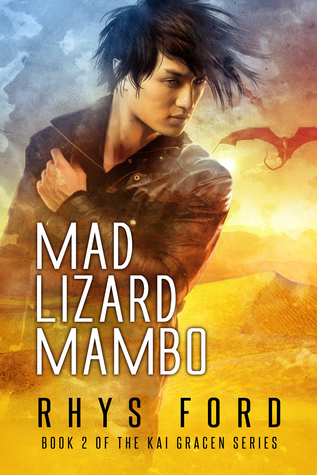 From The Blurb:
Kai Gracen has no intention of being anyone's pawn. A pity Fate and SoCalGov have a different opinion on the matter.
Licensed Stalkers make their living hunting down monsters and dangerous criminals… and their lives are usually brief, brutal, and thankless. Despite being elfin and cursed with a nearly immortal lifespan, Kai didn't expect to be any different. Then Ryder, the High Lord of the Southern Rise Court, arrived in San Diego, Kai's not-so-mundane life went from mild mayhem to full-throttle chaos.
Now an official liaison between the growing Sidhe Court and the human populace, Kai is at Ryder's beck and call for anything a High Lord might need a Stalker to do. Unfortunately for Kai, this means chasing down a flimsy rumor about an ancient lost Court somewhere in the Nevada desert—a court with powerful magics that might save Ryder—and Kai's—people from becoming a bloody memory in their Merged world's violent history.
The race for the elfin people's salvation opens unwelcome windows into Kai's murky past, and it could also slam the door on any future he might have with his own kind and Ryder.
Karen's rating:
More Kai, More Ryder and MORE DRAGONS!!!!!!!!!
That's right more of all the good stuff. More dragon fun...
"Kai, don't move," Ryder advised.




"Like I haven't noticed there's a huge damned dragon giving me a hickey?" The egg pulsed against my chest, and I pushed it at the lizard. "Just take it. And please, by Buddha's belly, don't…

eat… me."
Kai and Ryder are off on another adventure and this time there weren't suppose to be any dragons...not really...they were looking for ruins. Ruins of an ancient lost court somewhere in the Nevada desert...a court that might contain a secret desperately needed by Ryder's people and Kai's, if he'd only stop denying his heritage.
Kai's history alone is a mystery and as he, Ryder, Cari, another stalker who's along for back-up and Robbie Malone, a foolish boy who's playing a dangerous game, head towards their destination dodging bullets and fighting even more black dogs and running into unexpected relatives in the middle of nowhere somehow Kai and Ryder manage to have a conversation or two and find out a bit more about how they feel about dragons...
"Thing is, I'm not going to ask you to kill a dragon, Ryder. I'm going to do everything I can to make sure that doesn't happen, but if ever you're in a spot where you've got to choose between you and a dragon--you better not choose the damned dragon. And if that makes me a sentimental fraud, at least I'm a live sentimental fraud."
"Right now, nothing. You're going to catch some sleep, and I'm going to pretend to wake you up in four hours to take over watch when I'm probably going to let you snore for about six."




"And tomorrow?"




"Tomorrow, we'll see. Probably still no bones jumping." Shaking my head, I reminded him. "I don't have sex with people I know Ryder. That's been a hard, fast rule...forever."




"Nothing is forever, Kai. Not rules. Not people. What are you so afraid of?"
Ryder and Kai's interactions are entertaining to say the least and for all of Kai's mutterings about Ryder and wanting to be free of him it's when things go wrong that Ryder becomes Kai's first priority and who he does his best to protect. Maybe it's because Ryder is technically his boss but truthfully...I think not entirely.
I know there's no real romance between Kai and Ryder yet...but it's not for lack of trying or interest on Ryder's part and I'm rooting for him because he sees Kai in a way that few others do and he treasures him and while he may not want to admit it Kai's defenses are lowering and he's finding it harder and harder to not give in to his own feelings and desires.
I can't wait for book 3 because while this story was complete Kai and Ryder's journey together still has a ways to go and I'm so looking forward to taking that trip with them. There's so much more to find out about Kai...his past, who he really is and what that will mean for him and Ryder. But I also think there are things we don't know about Ryder yet. I think we haven't seen all that he is.
Ms Ford has created a world and characters with a wealth of potential and opportunity and if her previous series are any indication of what this author is capable of than I for one am waiting anxiously to see what happens next in this strange new world where worlds have merged and the rules are still being written...and dragons, who doesn't want more dragons?
********************



An ARC of 'Mad Lizard Mambo' was graciously provided by the publisher in exchange for an honest review.
Buy this book:
Reading gives us someplace to go, when we have to stay where we are. (Mason Cooley)
Buylinks are provided as a courtesy and do not constitute an endorsement of or affiliation with this book, author or booksellers listed.