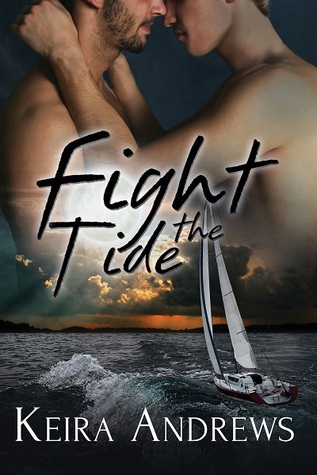 From The Blurb:
Adrift in a post-apocalyptic world, they only have each other. Is it enough? 
A virus that turns the infected into zombie-like killers spreads through a burning world thrown into lawless chaos. Lovers Parker and Adam have escaped to the open sea when they hear a message over the airwaves from a place called Salvation Island—a supposed safe haven. 
Orphaned as a child, werewolf Adam has always longed for a pack. He's eager to investigate the island, but Parker doesn't think for a nanosecond that the voice on the radio can be believed. He doesn't trust anyone but Adam and is determined to keep it that way. They don't need anyone else complicating their struggle to survive. Or do they? 
Danger on the high seas can surface in a heartbeat, and if Parker and Adam aren't careful, the current will drag them under. 
This gay romance is a dystopian adventure featuring a werewolf, his boyfriend, and their struggle to find a place to call home.
Karen's Rating:
As much as I wanted to read this book. I have to admit I was also a little apprehensive. Did I really want to read another book about

 

Zombies?

 Creepers, honestly they are so not my thing, but I loved that first book. It was awesome...so yes, I did want to read this, thankfully because as it turned out it to was awesome and yet, quite different

 

from the first

 

book.
In 'Kick at the Darkness' we were introduced to Parker and Adam just as the virus that would potentially turn everyone into Creepers was unleashed on the world forcing them to work together to stay alive and for Parker uninfected. We left them as they were about to seek safety on the ocean in a sailboat. 
Life on the high seas may keep them safe from the Creepers but it's with brutal force that Parker gets reminded, while waiting for Adam to return from a supply run, that Creepers are not the only threat to be guarded against.
While Parker and Adam are definitely a couple I have very much enjoyed that they've each retained their individuality as well. Often times expressing opposing viewpoints...Parker wanting to shut them off from the world, Adam wanting to find a place that they could begin again and be a part of a community, Adam wanting to go to the voice on the radio that promised them safety and shelter a sanctuary, Parker wanting to run from it, Parker wanting to ignore the plea for help during a storm, Adam wanting to give that help. It is was when they responded to that mayday call that things ultimately become both better and more complicated. Arriving just in time to rescue what looks to be a family of 4. Parker and Adam soon realize that these people need their help if they are going to survive so unable to simply leave them to their own devices Parker and Adam find themselves part of a group that slowly morphs into a family.