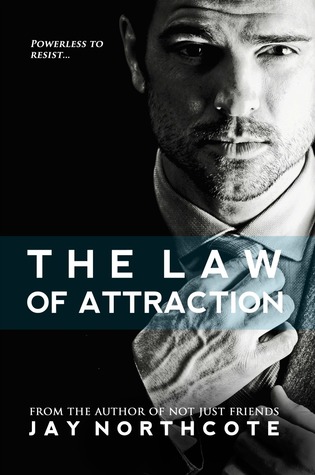 From the blurb:
When a professional relationship turns personal, it's impossible to resist the law of attraction. Alec Rowland is a high-flying lawyer in a London firm whose career is his life. He doesn't have time for relationships and his sexuality is a closely guarded secret. After picking up a cute guy on a Friday night, Alec's world is rocked to its foundations when his one night stand shows up in the office on Monday morning—as the new temp on his team. Ed Piper is desperate to prove himself in his new job. The last thing he needs is to be distracted by a crush on his boss. It's hard to ignore the attraction he feels, even though Alec's a difficult bastard to work for. Both men strive to maintain a professional relationship, but tempers fray, passions ignite, and soon they're both falling hard and fast. If they're ever going to find a way to be together, Alec needs to be honest about who he really is because Ed won't go back in the closet for anyone.
AnnaLund's rating:
This book resonated with me. Not because I'm into hot lawyers lawyering in their lawyer office. No, because I'm into people who actually change, who sit down and think, and then make the necessary adjustments in their lives.
It's kind of corny, as the setup of this story is cliché with a hot and steamy Friday-night-hook-up that turns into your new intern showing up at your workplace on Monday morning, but that's where the cliché ends.
Because what we end up with is a story where integrity and standing up for
who you are
is central. Ed is out and proud. Alec is not. And without pushing or forcing, Ed simply does not want to be shoved back into the closet.
So Alec has some thinking to do. And, I am happy to say, he doesn't take all that long to get his head screwed on right.
In the meantime, there's a lot of work and a lot of steamy hotness happening. Like, a lot.
What never ceases to amaze me is that Northcote's storylines, at first glance, may seem cliché, but the books themselves are never boring, never trite, and they always manage to make me feel good. (Also, they are both well written and well edited, a rare thing these days of self-publishing).
Thank you for that, Northcote, it is endlessly appreciated.
Thank you for writing stories for us. They do light up my dreary winter's day.
***
I was given a free copy of this self-published book from the author. A positive review wasn't promised in return.
Buy this book:
Thank you for reading, hope you liked this review.
Buylinks are provided as a courtesy and do not constitute an endorsement of or affiliation with this book, author or booksellers listed.