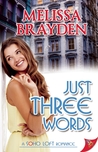 Blurb:
Accountant Samantha Ennis craves order and structure. As the bookkeeper at the boutique advertising agency she owns with her three best friends, its her job to apply logic to the chaos. When one of those best friends, laid back Hunter Blair, moves in to share her loft apartment, Sam's carefully organized world is thrown wildly askew.
Hunter Blair's been the coolest one in the room since elementary school. Until recently, her biggest worry in the world was which of the girls in her cell phone to call on a Saturday night. But it's not long before Samantha sparks a fire in Hunter that has her questioning her old habits and longing for new ones.
Isn't it a bad idea to fall for one of your best friends? Samantha and Hunter are about to find out.
Arielle's review:
I've just written a review of Kiss The Girl, the first of the Soho Loft Romances, and gave it the same enthusiastic five stars. If there were six stars to give, I'd give them six.
Book 2 of the Soho Series - Just Three Words - is my favorite of the group. It tells the (super hot) story of Hunter, the 'Shane' of the group (if not in looks, then in ability to reign in women) and Samantha, the numbers-oriented "responsible" one of the four friends (reminder: Hunter, Samantha, Brooklyn, and Mallory).
Where the first book saw Brooklyn meet Jessica, a love outside the group, Hunter finds her soulmate in Samantha, a friend she's known for 9+ years. Hunter, like so many of us, all of a sudden sees her best friend in a totally new light and starts to swoon. Lucky for her, Samantha is open to it; a casual dance at first, and then (without giving too much away) something more solid.
This book is no exception to what Melissa does extraordinarily well - hilarious and poingant banter between the four friends and super sexy sexiness. She does an amazing job describing the inner conflict of getting down with a close friend, and the sensuality of seeing them through a completely new lens.
It was sweet, sexy, and had just the right amount of angst to make it truly enjoyable.
A winner if there ever was one. And hey, just so ya'll know - I bought this book myself, no favorable review was promised in exchange.
Buy the book:
Thanks for reading my review! Until next time!
Buylinks are provided as a courtesy and do not constitute an endorsement of or affiliation with this book, author, or booksellers listed.