A More Perfect Union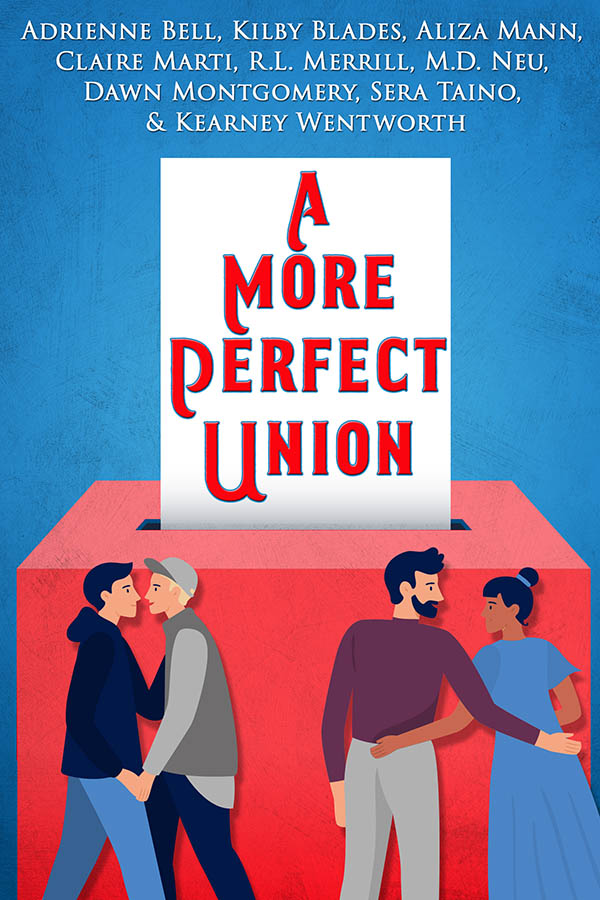 Love wins in this collection of nine all new, voting-themed romances.
A set of bite-sized romance short stories with 100% of the proceeds benefiting Fair Fight, an organization dedicated to combatting voter suppression.
From the campaign headquarters to the polls, A More Perfect Union features brand new stories from:
Adrienne Bell

Kilby Blades

Aliza Mann

Claire Marti

R.L. Merrill

M.D. Neu

Dawn Montgomery

Sera Taino

Kearney Wentworth
**This anthology will only be available for a limited time,
so be sure to grab your copy today.**
We hope you'll join us as love wins and democracy receives an HEA. A diverse bunch of folks sharing their passion for social justice and fighting against voter suppression. All proceeds from the collection will go to support Fair Fight, and you can find more information at https://fairfight.com. The anthology will be available for a limited time on Amazon and Apple Books.
Thank you so much for hosting us on your blog! I'm incredibly blessed to have brilliant, talented and passionate friends in Romancelandia, and this collection of stories is a perfect example of the beauty that we can create as authors when we are inspired to fight! A More Perfect Union is an anthology that looks at voters; who they are, what are their challenges, what are their needs, and why sometimes their voices are not heard. Our collective voice includes moms of special needs kids, queer folk, BIPOC and Latinx authors, a veteran and a cancer survivor. Given our backgrounds, it makes sense that this election year was fraught with emotion for us all.
Included in A More Perfect Union are four stories with queer protagonists. From formerly incarcerated women to White House employees to political strategists and a phone banking intern, these stories feature LGBTQ folks navigating a world where making our voices heard is vital to survival. I hope you'll enjoy the collection of stories and that it will inspire you, give you the giggles, and make you swoon.
Here is an excerpt from R.L. Merrill's "Joy Is A Phone Call Away":
I loved a good call where I could connect with like-minded people. It gave me faith in humanity. I was on such a high from the last call I was dancing in my seat as I dialed the next number.
"This is Dylan."
I was ripped from my moment of glory.
"Uh, I'm sorry, is this Dylan Whitley?"
"Yes, it is, may I ask who's calling?"
I wasn't prepared for the soft, sleepy voice on the other end of the line. I was expecting a dude because of the name, which was a lame assumption on my part. I did a double take and saw the Ms. before her name.
"Hi, um, hi. Sorry. I'm Joy and I'm calling with the party. The Democrats. The runoff. Oh my god, can I start over?"
The line was dead silent and I thought for sure she'd hung up on me.
Then she chuckled.
"Give it a shot."
"Great. Thank you. I'm not usually this bad."
"Okay."
I'm not sure what I was expecting, but more quiet distracted me again. I found myself trying to picture what Dylan Whitley looked like. What would the face to match that incredible voice be like?
"Are you there?"
Her voice startled me and I jumped, knocking over a cup with push pins, which went all over the floor. I jumped up and smacked my shin on the corner of the desk drawer, which I always did and I specifically reminded myself to watch out for every time I got up. I made a face to keep from shouting and then let out a long breath.
"I'm so sorry. I just... Hi. Let me start over." Pull it together, Joy. "I'm Joy and I'm calling from the Georgia Democratic Party and I wanted to—"
"The runoff election."
I exhaled for probably the first time since she'd answered.
"Yes. I wanted to ask you if you were planning to vote?"
The line went quiet.
"I'd planned to, but uh...I've had a change of status."
"Oh." I wasn't prepared for that answer, but I was a professional. I could handle it. "Is there something I can help with?"
"Not unless you are a miracle worker."
"Well," I said and then barked out a laugh. "I bring Joy with every call, so miracles aren't too far out of my purview." She'd laugh at my stupid joke, or she'd hang up. Either way, I likely wasn't making a good impression. The dead air on the other end of the line was killing me.
"Do you always work this hard for a laugh?"
"I'll do anything to protect our democracy, so I guess slipping on a banana peel or a bad pun aren't too high a price to pay."
"Duly noted." And she laughed. It felt like a victory.
Author Bios:
Adrienne Bell
Adrienne Bell is the author of over a dozen action-packed romances including the bestselling contemporary Second Service series. Her love of story structure led her to create Plot MD, a system for crafting compelling stories. She also is the co-host of the weekly podcast The Misfit's Guide to Writing Indie Romance. Adrienne lives with her husband and sons on the far edge of the San Francisco Bay Area where she spends her downtime reading, binge watching nerdy television, and scrolling through Disneyland fan sites.
Kilby Blades
Kilby Blades is a USA Today Bestselling author of Romance and Women's Fiction. Her debut novel, Snapdragon, was a HOLT Medallion finalist, a Publisher's Weekly BookLife Prize Semi-Finalist, and an IPPY Award medalist. Kilby was honored with an RSJ Emma Award for Best Debut Author in 2018, and has been lauded by critics for "easing feminism and equality into her novels" (IndieReader) and "writing characters who complement each other like a fine wine does a good meal" (Publisher's Weekly).
Newsletter:
https://www.kilbyblades.com/readersubscribe
Amazon: https://www.amazon.com/Kilby-Blades/e/B01N4770M0
Facebook: https://www.facebook.com/groups/kilbyskorner/
Aliza Mann
Aliza Mann is a paranormal and contemporary romance author who resides in Michigan. The goal of this anthology spoke to her desire to create a world where all people can enjoy the right and privilege of voting. She is a champion of equal rights and believes in democracy. The legacy of her grandfather, the basis for this story, lives on within her, and she could not be more thrilled to share this story with the world.
Twitter:
https://www.twitter.com/alizamannauthor
Facebook: https://www.facebook.com/AlizaMannAuthor
Website: https://www.AlizaMannAuthor.com
Claire Marti
Claire Marti is an award winning and USA Today Bestselling author ​of swoonworthy Contemporary Romance novels set in Southern California. After graduating from the University of Virginia with a BA in English Literature, Claire was sidetracked by other careers, including practicing law, selling software for legal publishers, and managing a non-profit animal rescue for a Hollywood actress. Finally, Claire followed her heart and now focuses on two of her true passions: writing romance and teaching yoga. She's thrilled to share her commitment to equality and justice for all in the A More Perfect Union Anthology.
Website:
https://www.clairemarti.com
Facebook: https://www.facebook.com/ClaireMartiAuthor/
Twitter: https://www.twitter.com/clairepmarti
R.L. Merrill
R.L. Merrill brings you stories of Hope, Love, and Rock 'n' Roll featuring quirky and relatable characters. Whether she's writing contemporary, paranormal, or supernatural, she loves to give readers a shiver with compelling stories that will stay with you long after. You can find her connecting with readers on social media, educating America's youth, raising two brilliant teenagers, writing horror-infused music reviews for HorrorAddicts.net, or headbanging at a rock show near her home in the San Francisco Bay Area! Stay Tuned for more Rock 'n' Romance.
Website:
https://www.rlmerrillauthor.com
Facebook: https://www.facebook.com/rlmerrillauthor
Twitter: https://www.twitter.com/rlmerrillauthor
M.D. Neu
M.D. Neu is an award winning gay author who writes epic Sci Fi, Fantasy, and Paranormal stories that reflect our diverse community. When not writing M.D. Neu works for a non-profit and travels with his husband of twenty years.
Website:
http://www.mdneu.com/
Twitter: https://twitter.com/
Facebook: https://www.facebook.com/mdneuauthor
Dawn Montgomery
USA Today bestselling author Dawn Montgomery loves to write almost as much as she loves to read. She has traveled the world twice over. While her days were filled with long hours and hard work, her nights were left for dark, lustful fantasies in and out of strange hotels and cities. Alaska and Texas are the places she calls home. She recently moved from the frigid North to Texas with her family and neurotic dog. It was tragic to leave behind the moose and bear for wide open plains and sexy cowboys.
Website:
http://www.dawnmontgomery.com
Facebook: https://www.facebook.com/dawn.montgomery.author
Twitter: https://twitter.com/Dawn_Montgomery
Sera Taíno
Sera Taíno writes Latinx romances exploring the joy of love in the context of community and family in all its rich diversity. She was selected for the Harlequin Romance Includes You Mentorship, an initiative launched in 2019 to reach out to diverse communities of writers and bring more own voices stories to romance readers. Her debut novel is slated to be published with Harlequin's Special Edition Line in Fall, 2021. When she is not writing, she can usually be found teaching, traveling, or wrangling her family.
Website:
http://www.serataino.com/
Twitter: https://twitter.com/serataino
Facebook: https://www.facebook.com/serataino
Kearney Wentworth
Kearney Wentworth writes about her passions: music, romance, travel, sports, libraries, hotties and Blerds. The first book in her "Highland Havoc Rugby Club" series is out on submission and more short stories are in the queue.
Website:
https://norudapublishing.com/
Twitter: https://twitter.com/KearneyW_Writes
Facebook: https://www.facebook.com/kearneywentworthauthor
Giveaway
The authors are giving away a $25 Amazon gift card with this tour:
Promotional post. Materials provided by