Title: New Boy at the Academy
Series: Tales from the Academy, Book One
Author: Sam Hawk
Publisher: NineStar Press
Release Date: March 25, 2019
Heat Level: 2 - Fade to Black Sex
Pairing: Male/Male
Length: 79800
Genre: Contemporary YA, LGBT, YA, /1980s, Southern US, high school/academy, bullying, coming-of-age, coming out, homophobia, family drama
Synopsis
Timmy had no clue that the first day of 10th grade at the Academy would rock his world. He thought it would be just like last year, with its endless bullying and recesses spent reshelving books in the library with his best and only friend Carleen. The sissy boy and the fat girl had bonded over their shared outcast status. But Carleen shows up filled with sassy confidence and declares they're going to rule the school. By Christmas, the freaks and nerds would be the cool kids, and the mean girls and jocks would be the outcasts. Something had happened to her over the summer, but what?

And then, the two of them lay eyes on the new boy at the Academy. Doug has auburn feathered hair, veiny biceps, and green eyes the color of Sprite bottles. Plus, he's come all the way from exotic Los Angeles, California. He rocks out to Patti Smith while Timmy loves ABBA. How does someone so cool end up in tiny, conservative Edgewood, South Carolina?

When Carleen immediately declares Doug a fox and her new prospective boyfriend, Timmy is shocked at his jealous reaction. He's not supposed to like boys in that way, is he? Doug stirs up weird new emotions deep inside him as Timmy embarks on the adventure of his life. He and his hometown will never be the same.
Excerpt
New Boy at the Academy
Sam Hawk © 2019
All Rights Reserved
Edgewood, South Carolina
1980
God didn't answer my prayers and bring the Rapture on Labor Day, so I had to start tenth grade after all. I stepped in front of the mirror to assess my new back-to-school outfit. I hated it. I'd begged Momma to buy me the alligator shirt from Belk's, which really cost her a lot, but did it have to hug my body so much? I tried stretching it out, but it would only stretch so far. I thought I'd look like Tom Selleck with his big veiny arms. Instead, I looked like the Pillsbury Doughboy. I was trying to flex my chest when Momma walked in.
"Honey, get a move on. We have to be out the door in fifteen minutes, and you haven't even touched your Pop-Tarts."
"Momma, I think I need to change clothes."
"What are you talking about?" she asked as she pulled and tugged on my shirt. "This is what you wanted. You look very handsome."
"But it fits so close."
"Timmy, I have told you time and again you're not fat. It's all in your head. You are absolutely average on the height and weight scale and exactly where you need to be at fifteen." She patted my tummy, causing me to suck in. "You'll lose that little bit of pudge in no time in gym class."
My heart sank at the thought of gym class, and I almost lost my appetite for Pop-Tarts. Almost. Momma smoothed down my cowlick at the kitchen table as I bit into the brown sugar cinnamon pastry.
"Thank goodness you inherited the Ashburn hair," she said. "Such a beautiful chestnut brown and such a noble hairline. It's a sign of your aristocratic heritage, you know, on my side of the family. All the Ashburn men had beautiful hairlines. Thank goodness you take after me and don't have your daddy's stringy mess."
I guessed my hairline was okay, but my new haircut was way too short. Daddy had taken me to get it cut only after Momma called him ten times to remind him. He and Momma got divorced when I was two, and it was always weird when he came by, which wasn't often. Naturally, he took me to the awful old barbershop next to the pool hall instead of the new unisex salon in the Augusta Mall I was secretly hoping for. He told the barber to "buzz it" and then went next door for a beer. I managed to talk the barber into keeping a little length, but not much.
"Now go brush your teeth quick as a bunny rabbit," said Momma. "Carleen's mother called this morning and said her car's not running and could I run by and pick her up for school. So, we have no time."
Carleen's house was across the tracks, and I knew Momma didn't like going over there, but Carleen had been my best friend since kindergarten. Actually, you could say she was my only friend. She was the only one I talked to for hours on the phone at night; the only one I hung out with after school; the only one to ever invite me to a sleepover, which Momma had never allowed me to do since boy-girl sleepovers just weren't done. I hadn't seen her all summer because she'd been working at her grandparents' peach farm. I was glad we'd be going to school together on the first day. I needed my friend with me.
We pulled in front of the house, and Carleen came right out.
"Good Lord, Carleen's put on even more weight this summer," said Momma.
Momma was right. Carleen had always been the biggest girl in class, and she wasn't getting any smaller. I recognized her smock top from last year. A smock top was supposed to fit loose, but hers pulled in all the wrong places.
"Hey, Carleen," said Momma as Carleen got in the car. "You sure do look pretty for your first day of school."
"Thank you, Mrs. Thompson," said Carleen. I waited for an eye roll, but she just smiled at Momma like she really believed it. I looked at her more closely, and there was something different about her. Was it confidence? If so, it was new. Was that lip gloss she was wearing?
"Hey, Timmy, did you hear we're getting a new boy in our class this year?"
"No," I said, dreading the addition of another redneck bubba to the roster.
"They say he's from California and he's real cute."
"Really? California?" said Momma. "What's he doing here?"
"I think his momma's people are here. He's related to all those Herlongs."
"Does that explain the lip gloss?"
"Timmy, don't be rude," said Momma.
"I just wanted to look pretty for the first day of school," replied Carleen.
"And you do," said Momma.
When Momma pulled up in front of Patriot Christian, Carleen looked me square in the eye and gave me a big smile and a thumbs-up.
"Come on, Timmy. We're gonna rule the school in tenth grade. Let's do it."
Purchase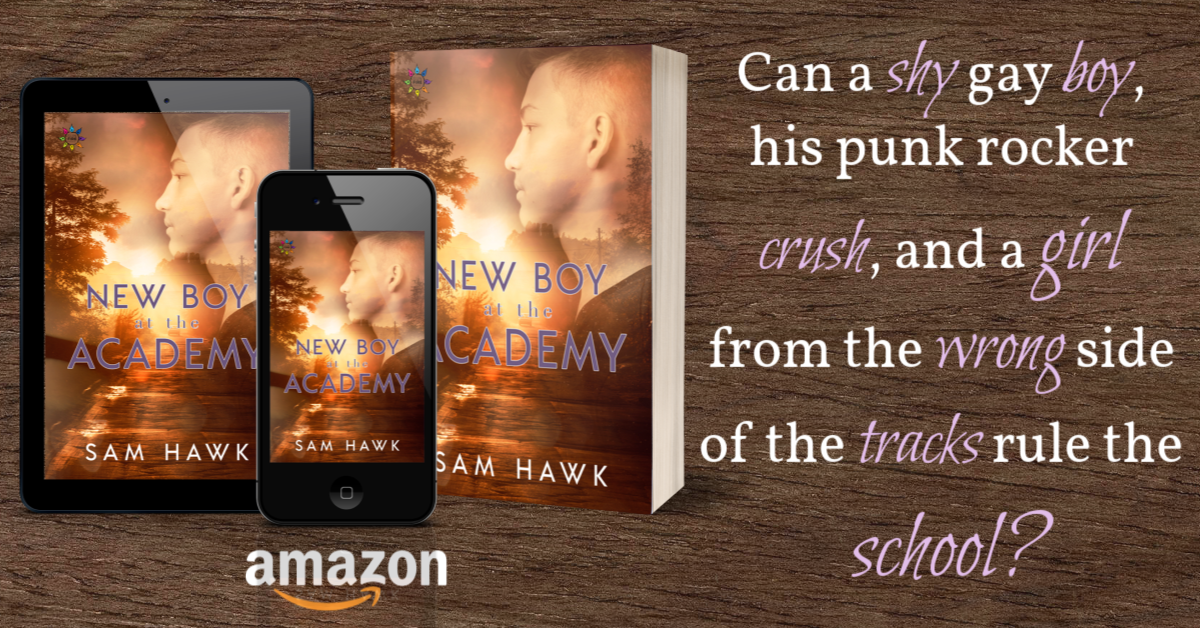 Interview with Sam Hawk
When did you write your first story and what was the inspiration for it?
I started writing about ten years ago and thought I would create weighty Southern tomes dripping with Spanish moss, heaving bosoms and repressed homosexuals. Instead, I wrote a funny story about a beauty pageant. It turned out to be a finalist in the Saints and Sinners short story competition at the literary festival in New Orleans in 2015 and was published in their anthology as Pageant Girl.
Pageant Girl was inspired by a writing assignment in a class I was taking. We were asked to write a paragraph in the voice of the opposite gender. I immediately hit on the interior monologue of a Miss Texas contestant as she goes through the swimsuit competition. I suppose this says something about how my brain works. It also says that I am really, super gay.
Do you have a writing schedule or do you just write when you can find the time?
I have a disabled husband who I take care of and a full-time career as a lawyer, so I must fit in writing when I have time. I write on weekends, mostly.
Briefly describe the writing process. Do you create an outline first? Do you seek out inspirational pictures, videos or music? Do you just let the words flow and then go back and try and make some sense out it?
What's a writing process? I wish I was that organized. I've tried creating outlines and I guess I don't have the patience for it. When I get an idea, I just want to start writing it. I'm certainly more of a "let the words flow" writer, which sounds much classier than the way I usually put it -- vomit the words on the page and make sense of it later.
Where did the desire to write LGBT romance come from?
My novel,
New Boy at the Academy
, is a YA novel about a shy sissy boy, his punk rocker crush, and his best gal pal from the wrong side of the tracks who shake things up at a private Christian academy in the Deep South. Along the way, Timmy (my protagonist) finds love with Doug (the punk rocker), so I suppose you could call this book a romance. It certainly has romantic scenes.
The book started out as a short piece about my own experiences in high school at the same sort of private academy. I quickly realized that if I created a fictional character, he could have a much more interesting time in high school than I ever did. For one thing, he could have a boyfriend, which I pined for but never dared seek out in small-town South Carolina in the 70s. Timmy gets to experience things that I only dreamed about.
How much research do you do when writing a story and what are the best sources you've found for giving an authentic voice to your characters?
I did a moderate amount of research when writing
New Boy at the Academy
. It's set in 1980 and, while I can rely on my own memories to an extent, I certainly utilized Google to make sure it was accurate. For example,
Cosmopolitan
and
Vogue
magazine covers figure in several important scenes and I certainly couldn't make up which famous model was on the cover of Cosmo in September, 1980.
What's harder, naming your characters, creating the title for your book or the cover design process?
Definitely, creating the title for the book. For a long time, the working title was
The New Boy at Patriot Christian Academy.
Way too long. I had a difficult time coming up with alternatives, but my editor hit on
New Boy at the Academy
and I think it works.
The cover design process at Nine Star Press was easy and a very positive experience. I gave detailed input and Natasha came up with a gorgeous design. There were a few tweaks to her original, but not many.
As for naming characters, this may sound crazy, but they named themselves, or more accurately, they introduced themselves to me. I don't feel like I conjured up the names Timmy Thompson, Carleen Hightower, and Doug Appleby. That's just who they are.
Meet the Author
Sam Hawk's fiction is inspired by his experiences at a private Christian Academy in rural South Carolina in the '70s. He survived his Southern adolescence with his sanity relatively intact and went on to earn degrees from the College of Charleston and the University of South Carolina Law School. He also served in the U.S. Army as a JAG officer for twelve years. He resigned his commission when it became clear he was expected to persecute homosexuals as part of his job.
Sam then moved to Dallas, Texas where he met the man of his dreams and found his LGBT family. Sam and his husband have been married for over ten years and live with their Corgi and Chartreux cat in the requisite charming old house in a historic district where gay couples are legally compelled to live.
Tour Schedule
Giveaway
Promotional post. Materials provided by