Title: Devil's Bargain
Series: King of Hearts Book 1
Author: Kathryn Sparrow
Publisher: MLR Press
Release Date: January 3
Heat Level: 4 - Lots of Sex
Pairing: Male/Male
Length: 67500 Words
Genre: Romance, Fantasy, Paranormal
Synopsis
Seth Griffin is forced to live out his wildest dreams at the expense of his best friend, the man he loves.

Seth Griffin's life was basically on track. Attend Cornell, double major in Mechanical Engineering and Astronomy, play basketball, and room with his best friend, Kevin. So what if he had a hopeless crush on his gorgeous, straight friend.

When Maynard Frederick Winthrop IV buys all of Seth's family's debt and threatens to foreclose, everything Seth has worked for is in jeopardy. Winthrop offers Seth a deal: spend a week at his mansion, a place that seems to defy logic and violate the laws of physics, performing challenges of Winthrop's choosing. If Seth succeeds, all will be forgiven.

But can Seth do as Winthrop asks, especially when Kevin is the one who will pay the price?
Excerpt
"There's one thing I don't understand about you. You're gay. You're out. You live in a liberal state, but you rarely hook up, no boyfriends, nothing. What gives?"
What? Why did Winthrop know he was gay or care?
"Excuse me. I don't see how that's any of your business."
Winthrop's brows climbed. "Believe me. It's my business. Everyone has needs, but you live like a monk."
"I'm a double major across two colleges and a varsity athlete. I don't have time for a boyfriend, and I'm done with hookups."
Winthrop shook his head, a frown marring his face. "That's crazy. There are even a couple guys on your team who have offered to blow you, bottom, top, whatever, but you keep refusing. Even on those away games, alone, in a hotel."
"Look. Enough of this." Seth slammed his hand down on the table. "I came here. I sat through this meal. It's done. You clearly have my family and me over a barrel. Isn't it time to tell me what this is all about?"
"As you wish."
Purchase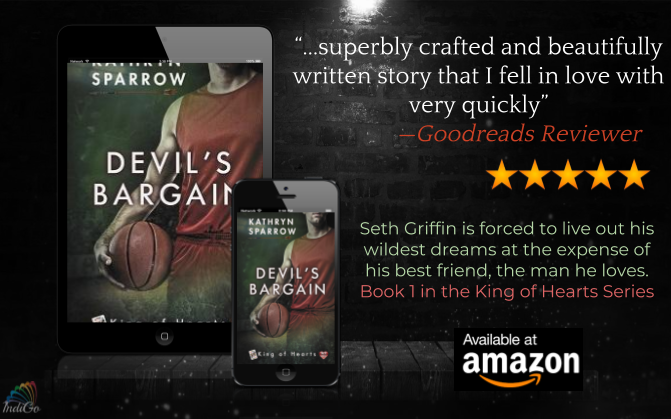 Dubious Consent
Devil's Bargain is a dubious consent story. Seth is forced to do things by Winthrop that he would not agree to do otherwise.
However, what I enjoy about this genre is although Seth would not agree to do them, he wants to. He is being forced to do exactly what he wants, but he thinks he's not allowed. It's salacious living out forbidden fantasies. All of that is key for me.
Although Seth is our narrator, he is an unreliable narrator. He explains what he perceives is the truth, but he is not always correct.
I love books that use the dubious consent theme as long as they are written in the romance genre because of the rules for a romance. The Romance Writers of America define Romance
as follows:
"
Two basic elements comprise every romance novel: a central love story and an emotionally satisfying and optimistic ending.
A Central Love Story:
The main plot centers around individuals falling in love and struggling to make the relationship work. A writer can include as many subplots as he/she wants as long as the love story is the main focus of the novel.
An Emotionally Satisfying and Optimistic Ending:
In a romance, the lovers who risk and struggle for each other and their relationship are rewarded with emotional justice and unconditional love. "
Often the Emotionally Satisfying and Optimistic Ending is phrased as having either an HEA (Happily Ever After) or at least an HFN (Happily for now).
In the case of Devil's Bargain, we know that although the characters consent is problematic, in the end they are building toward something that will satisfy the above definition.
Standing just outside the restaurant booth, Seth couldn't breathe. Heat swamped his senses, and he stared at the man Winthrop had chosen for him to… to have sex with… for the next week. How could Winthrop be such a sick bastard and choose the one man who was his roommate, best friend, and the straight guy Seth had loved for two years?
Seth had feared he would have to

perform

with someone distasteful.

Instead, this was worse. So much worse.
Seth turned, ready to storm out of the restaurant and find Winthrop. Making him perform with the man of his dreams, knowing all along that it was a game. That was a farce he could not allow. He would be forcing himself on Kevin. Back in high school, he had vowed to never lose a friend again just because he was gay. But that little faux pas didn't hold a candle to what he would be making Kevin do.


Meet the Author
Kathryn Sparrow has had stories spinning around in her head her whole life and finally decided it was time to write them down. For twenty years, she worked in the Software Industry as a Software Quality Engineer, so she gets a particular thrill including geeks in her stories. Now, she is a stay-home mom although she thinks that's a terrible name for the job since she spends so much time driving her kids to their various activities. She lives in Massachusetts with her geek husband and adorable, infuriating daughters, who are too smart for their Mommy's own good. If she had spare time she would spend it knitting, crocheting, cross stitching, and doing any other handicrafts that caught her fancy.
Tour Schedule
Giveaway
Promotional post. Materials provided by