Please say hello to Annabeth Albert with
Out Of Uniform #7 (Final book in the series)
Blurb:
The camping trip from hell may be the first stop on the road to happily-ever-after in Rough Terrain, the final book in Annabeth Albert's critically acclaimed, fan-favorite Out of Uniform series.

Navy SEAL Renzo Bianchi has a soft spot for Canaan Finley, and not only because the man makes a mean smoothie. He's the first guy to get Renzo's motor revving in a long time. But when he agrees to Canaan's insane charade—one all-access fake boyfriend, coming right up—he never expects more than a fling.

Creating a hot Italian SEAL boyfriend to save face seemed like a good idea…until his friends called Canaan's bluff. Now he's setting off into the woods with the very man who inspired his deception, and Canaan is not the outdoorsy type. The sparks are already flying when a flash flood separates them from their group, leaving Renzo and Canaan very much trapped…very much alone in the wilderness.

Working together to come up with a plan for survival is sexier than either of them expects. But back in the real world, being a couple is bringing its own set of hazards…
Get the book:
Excerpt:
"Canaan. Baby. Everyone will be coupled up. I'm bringing Eric, and everyone else has someone. I don't want things to be
awkward
between us."
God forbid they were awkward. Like breaking up in Prague hadn't been bad enough, or Damian taking up with Eric, the replacement drummer, mere minutes later, now apparently they had to socialize like adults because the rest of their friend circle demanded it. And quite honestly, Canaan had lost enough the past few years. He wasn't losing his oldest friends too. "Things will be fine."
"Of course," Damian said, a little too quickly and brightly. "But last time we talked, you said you were seeing someone… Just bring them. It'll be easier. On everyone."
More like easier on Eric's jealous ass. And had Canaan said that? He supposed it was possible in some vague make-Damian-happy way that he'd alluded to such a thing.
"I…uh…" The absolute best thing would be to say the truth, which was that he was exactly as single as he'd been boarding that plane in Prague. As single as he'd been in the three years since, flitting from hookup to hookup, nothing sticking. But what came out was "He's a SEAL. You know, unpredictable hours. Could be deployed anytime. Can't say for sure if he'll have leave…"
"Well, can he try?" Damian did not sound in the least impressed by the SEAL factoid. "And really, I'm happy for you. About time you moved on."
"Listen. Since your guy's military and all, I'll just tell Kelly you're bringing him. I'll cover the fee, and you guys just show up."
"I've got money." Not much, but he did have some, and didn't feel the best about letting Damian float him. Not to mention his imaginary boyfriend.
"My present to you. I insist. Just get your ass to Flagstaff."
"I'll try. Probably by myself though because—"
"Bring. Him. Don't be a loser."
Too late.
He already was a loser. Giant L and all. Twenty-six and concocting relationships out of thin air like some sixteen-year-old might. And he'd be showing up alone with some bullshit story, and things would be awkward with Damian and Eric, because of course they would be.
About the author: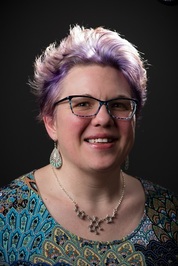 Annabeth Albert
grew up sneaking romance novels under the bed covers. Now, she devours all subgenres of romance out in the open—no flashlights required! When she's not adding to her keeper shelf, she's a multi-published Pacific Northwest romance writer. Emotionally complex, sexy, and funny stories are her favorites both to read and to write. Her critically acclaimed and fan-favorite LGBTQ romance series include the #OutOfUniform, #Gaymers, #PortlandHeat, #RainbowCove and #PerfectHarmony series.
To find out what she's working on next and other fun extras, check out her website:
annabethalbert.com
or connect with Annabeth on
Twitter
,
Facebook
,
Instagram
, and Spotify! Also, be sure to sign up for her newsletter for free ficlets, bonus reads, and contests. The fan group,
Annabeth's Angels
, on Facebook is also a great place for bonus content and exclusive contests.
Giveaway:
1) Paperback copy of any back catalog Out of Uniform series book. Open Internationally.


2) e-copies of any back catalog Out of Uniform series book. Open Internationally.
Promotional post Materials provided by A Novel Take PR.