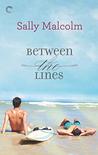 Blurb:
Theo Wishart has given up on finding love.

Luca Moretti doesn't want to find it.

A handful of summer days may change their lives forever—if they're brave enough to look between the lines.

Eyes might be windows to the soul, but for Theo Wishart they're all shuttered. His dyspraxia makes it hard to read people. He doesn't do relationships and he certainly doesn't do the great outdoors. Two weeks spent "embracing beach life" while he tries to close the deal on a once great, now fading seaside hotel is a special kind of hell.

Until Luca. Gorgeous, unreachable Luca.

Luca Moretti travels light, avoiding all romantic entanglements. Estranged from his parents, he vows this will be his last trip home to New Milton. His family's hotel is on the verge of ruin and there's nothing Luca can do to save it. He's given up on the Majestic, he's given up on his family and he's given up on his future.

Until Theo. Prickly, captivating Theo.

No mushy feelings, no expectations, and no drama—that's the deal. A simple summer fling. And it suits them both just fine. But as the summer wanes and their feelings deepen, it's clear to everyone around them that Theo and Luca are falling in love. What will it take for them to admit it to themselves—and to each other?
Todd's rating:
Okay, strike
another one in the win column for Sally Malcolm
. After really enjoying
"Perfect Day"
, I had high hopes for this story and
wasn't disappointed
.
Theo was a bit of a persnickety oddball
right from the start, but I immediately loved him, though, I think his overall strangeness could've been pumped up a few notches. And his
dyspraxia
was rarely even touched upon in the story, actually.
But
Luca was actually the MC that I connected most closely with
in the book. Yes, he could be
a bit of a standoffish, broody prick
at times, but right from the get go, you could see that he had
a heart of gold and a lightness about him
that drew others into his orbit. Luca was a bit like
Finn
from "
Perfect Day
", now that I think about it.
The guys for sure
didn't start out on the right footing
with one another, but I loved seeing them spend time together and get to know one another better, until they finally gave in to the immediate attraction that they'd both felt.
The book had
a few angsty, dramatic moments
, but I felt that it never crossed the line into unrealistic territory. Both MC's had their issues, which they worked through. Slowly. And sometimes painfully. But they did the work, especially Theo, and came out the other side better off for confronting their fears.
"Hey, you okay?"

He wasn't really. The song, and his startling revelation, had left him feeling raw and unbalanced. Rash.

Which was probably why he said, "I wish I could have that, you know? That kind of love."

With you.
In regards to
steam
, there was some, but not so much as to feel gratuitous. For me, the frequency of the sexy times hit the Goldilocks zone pretty dead-on.
The resolution for the problem with
the sale of the hotel
, Luca's childhood home and family legacy,
went almost exactly as I'd predicted
, although I didn't care. Not one bit.
But guys,
JOSH & FINN'S WEDDING!!!
Christ, I normally *loathe*
Big Gay Wedding
plots in stories, but this one was
seriously amazing and heart-felt
.
Pro Tip:
When they mention the title and artist of
"The Song"
in the book, stop and watch the YouTube video and really
*listen* to the lyrics
, then continue reading. All the feels, people! ALL of them.
Purrrr-fection
.
Aaaaand that's probably the first and last time you'll ever hear me gushing about a storybook wedding, but this one was extremely
non-Disney'esque
, so some major points there. ;- )
This second book in the
New Milton
universe was not based upon a Jane Austen book, so we blessed weren't forced to endure the repeated "
chase and run away
" scenario seen in "
Perfect Day
". Praise the Lawd!
The book
worked perfectly fine as a standalone
, with very little exposure to the characters from the first book --
except for the very touching wedding scene
, which was a huge highlight of this story for me.
In regards to pacing and length, there were a few times when events were
a bit slow, and the story felt a bit long
, but I never got bored and lost interest. I simply wanted to get to the next bit of excitement.
I'd rate this book at
around 4.25 stars
and recommend it to anyone who enjoys
"some" drama and steam, but not an overabundance
.
My ARC copy of the book was provided by the publisher through NetGalley in exchange for a fair, unbiased review.
Get the book:
Thanks for visiting our blog and I hope you enjoyed my review!
Buy links are provided as a courtesy and do not constitute an endorsement of or affiliation with this book, author or bookseller listed.