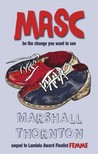 From the blurb:
Lionel and Dog are back in this follow-up to the Lambda finalist, Femme. Almost six months have passed and, after taking an online quiz, Lionel believes their relationship is doomed because they have nothing in common. To save their future together, the pair joins a gay bowling league and discovers that Lionel is an excellent, if somewhat eccentric, bowler.
Meanwhile, Dog gets profiled in a work newsletter. He's excited that he's out at work, but doesn't immediately realize that by fawning over Dog's masculine nature the writer was also putting down all femme guys. Lionel takes it personally, which leads the to a crisis in their relationship. Attempting to make it up to Lionel, Dog makes a grand gesture—which backfires spectacularly.
Will the two manage to put things right? And will a night in jail, a morning of drag bingo, an afternoon of day drinking, and a month of moping make things better or worse?
Heather's rating:
I loved, loved, loved
Femme
by the very witty
Marshall Thornton
, but
Masc
didn't quite have the same effect on me, though I enjoyed it overall.
Lionel and Dog are a great couple. They are complete opposites, and they really balance one another. There is always that great wit and humor between them, especially from Lionel, however,
this book was a lot less funny and a lot more serious than Femme.
Just a couple things to get out of the way:
Masc cannot be read as a stand-alone.
It just can't. It's a continuation of Femme, so you really need that background information. Also,
those who don't like their HEAs messed with in any way might not like the ups and downs in Dog and Lionel's relationship in this story.
Finally,
trigger warnings for sexual harrassment and unwanted touching
.
There were a lot of deep parts in
Masc
, mostly about being true to who you are, similar to the messages from Femme. I liked the overall story, but I was really hoping for something more funny and light and less intense, though there were some really amusing moments.
I enjoyed this book, but, if I'm being completely honest, I almost wish I stopped at
Femme
. I like my HEAs to stay undisturbed.
*Copy provided in exchange for an honest review*
Enjoy!!