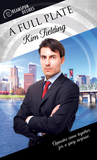 Blurb:
Opposites come together for a spicy surprise.

Bradford "Tully" Tolliver has everything—money, a great car, a beautiful condo, and a promising career as one of Portland's hottest young lawyers. Sure, he puts in long hours and has no social life to speak of, but who needs romance when corporations pay top dollar for his expertise? He hesitates when a colleague asks if her cousin can live with him, but the arrangement will last less than a year, and then the cousin—Sage Filling—will return to his tiny hometown.

But Sage is handsome and intriguing, and his cooking makes Tully swoon. Sage has obligations back home, though, and Tully has offers he might not refuse from a persistent—and very wealthy—ex. Since Tully and Sage each have a full plate, can they make room for a side of love?
My rating:
This was utterly adorable. And it's apparently true - the way to a man's heart is through his stomach.
At least, in this case, that old adage works - Sage seduces Tully with his cooking skills.
I'm getting ahead of myself though...
Bradford Tolliver aka Tully is a hot shot young lawyer, living in a fancy condo, driving a fancy car - and living an empty life. When his colleague asks for a favor for her cousin to live with Tully for a few months, less than a year, Tully reluctantly agrees.
Sage Filling (what the heck, Kim Fielding?) took a job as a short order cook for reasons, but his dream is cooking on a much higher culinary scale. He loves trying out new recipes, and Tully is only too willing to be the guinea pig. He doesn't mind the hot kissing either. He doesn't mind spending a bit of his cash on some fancy cookware either if that keeps Sage cooking up culinary delights.
The focus of this story is on the slowly developing romance between the two men and the presumably inevitable ending - Tully's life is in the city, and Sage wants to go home to his small town.
There's a wee bit of drama with Tully's filthy rich ex Eddie who needs to learn the meaning of NO, and who comes across as a bit smarmy. I didn't like him much, though the Thanksgiving standoff was highly entertaining.
This is a romance, so of course they get their happy ending. That's not a spoiler, is it?
This is a really sweet, adorable story, which shouldn't come as a surprise to anyone - the author is Kim Fielding after all. Enjoy this with a glass of wine or two, or read it lounging by the pool this summer. You won't regret giving this book a chance.
** I received a free copy of this book from its publisher in exchange for an honest review. **
Get the book:
Happy reading!!