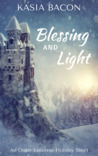 Blurb:
It's the Night of Winter Lights.

Heedless of the holiday, the Commander of the H'Aren fortress, Captain Torýn Torhdhar, seems to find his satisfaction in work.

Such occurrence hardly surprises his Orderly, Sæbastyn Hyago, even though the young Lieutenant has spent a silent, aching decade wishing his superior officer would pursue pleasure elsewhere—specifically in his arms. But as the evening continues, nothing about it meets Sæbastyn's expectations. Will the Lieutenant see his secret desires realised, or his heart shattered?

This alternative winter holiday short, set in the Order Universe, will be available FREE in December as a part of the 2017 M/M Advent Calendar.
Jewel's rating:
I normally shy away from stories this short, because they almost always feel like they're missing something. I ran across this author's work a few months ago, however, and saw that she can write a short story like nobody's business! I loved
The Mutt
and
The Highlander
, so when given the opportunity to read
Blessings and Light
I, of course, said yes!
Kasia Bacon sets the scene for a Winter Festival so beautifully. In modern life, we don't often take the time to really enjoy holidays (well, I don't, anyway), with them being rampant with family stress and commercialism. But with the story Bacon has created here, I wanted to experience all of it -- the food, the camaraderie, the celebration of lights.
15 pages should not be enough to get a sense of environment and characters and connection, but the author manages it beautifully here. I wouldn't say no, though, to more about Torýn and Sæbastyn.
Blessings and Light
is a gorgeously written holiday nibble, and I'd highly recommend it.
------------------
ARC of Blessings and Light was generously provided by the author, in exchange for an honest review.
Get the book:


Happy reading!