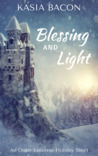 Blurb:
It's the Night of Winter Lights.

Heedless of the holiday, the Commander of the H'Aren fortress, Captain Torýn Torhdhar, seems to find his satisfaction in work.

Such occurrence hardly surprises his Orderly, Sæbastyn Hyago, even though the young Lieutenant has spent a silent, aching decade wishing his superior officer would pursue pleasure elsewhere—specifically in his arms. But as the evening continues, nothing about it meets Sæbastyn's expectations. Will the Lieutenant see his secret desires realised, or his heart shattered?

This alternative winter holiday short, set in the Order Universe, will be available FREE in December as a part of the 2017 M/M Advent Calendar.
Todd's rating:
== A *FREE* Holiday Read ==

Confession time
. For many years now, I've found it very difficult to enjoy short stories. They've been right up there with anthologies on my
dislike-o-meter
.
Then I started reading
Kasia Bacon's "The Order" series
and my short story world view shifted a bit.
This
fantasy series
is about elves, assassins, warriors and the conflicts between warring factions across the fictional land.
And it's been
so much fun
. This short story was no exception.
Kasia uses an economy of words, but they always seem very
poignant and impactful
in the final product.
She has a way of drawing me in neck-deep and making me care about the characters, immediately feeling their connections and pulling me right into the fantastical world that she's created.
There's a
sensuality to the writing, without things *necessarily* turning sexual
, which I really enjoy and have seen very few other authors pull off quite so well.
In
"Blessing and Light"
, she has two brand new characters for us,
Captain Torýn Torhdhar
, a fortress Commander, and his
Lieutenant Sæbastyn Hyago
, his Orderly, whom he rescued from poverty as a youth a decade prior.
Sæbastyn isn't afraid of the stoic Torýn and tends to
blurt out whatever crosses his mind
. Well, other than
his true feelings
toward Torýn, that is.
I loved how Kasia wrote a story where, on the surface, it only seems that the pair are sharing an evening meal, when in reality, it's
so very much more
.
The woman definitely knows how to write
amazing UST
and, even if the story only ends with a kiss (
or two
), it still left me
extremely satisfied
. Sometimes less truly is more.
This short story
can be read as a standalone
; however, as I'm a huge fan of both
"The Mutt"
and
"The Highlander"
, if you have the time, I'd suggest those short fantasy reads as well.
4.25 *concise-&-heart-felt* stars.
** PS
-- I *need* her next Order installment,
"The Scout"
and the
full-length novel
that she's working on. : )
This book will be a *FREE* holiday read, but my ARC copy of the story was provided by the author in exchange for a fair, unbiased review.
Get the book:
Thanks for visiting our blog and I hope you enjoyed my review!
Buylinks are provided as a courtesy and do not constitute an endorsement of or affiliation with this book, author or bookseller listed.