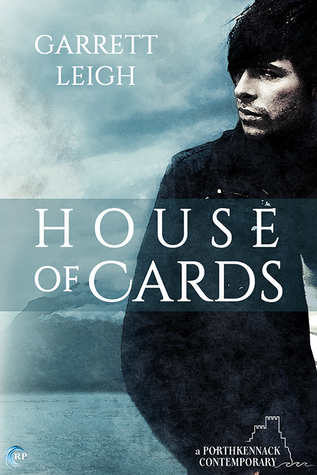 From The Blurb:
Calum Hardy's life has unravelled. Reeling from the betrayal of a man he once loved, he boards a train heading south, with no real idea where he's going except a world away from London.
Brix Lusmoore can hardly believe his eyes when he spots one of his oldest friends outside Truro station. He hasn't seen Calum since he fled the capital himself four years ago, harbouring a life-changing secret. But despite the years of silence, their old bond remains, warm and true—and layered with simmering heat they've never forgotten.
Calum takes refuge with Brix and a job at his Porthkennack tattoo shop. Bit by bit, he rebuilds his life, but both men carry the ghosts of the past, and it will take more than a rekindled friendship and the magic of the Cornish coast to chase them away.
Karen's rating:
Ok, Garrett Leigh is officially on my 'must have' list...
I wasn't going to tackle this series not for any reason in particular just because I have so many books...specifically series on the go right now that I thought I'd try and behave because seriously the books in this series have gotten some really good reviews but I was trying to behave myself and then I saw "House of Cards' by Leigh Garrett...what can I say, willpower...I has none.
Add to this the fact that Calum's last name is 'Hardy' and seriously how could I ignore a book with such an awesome name in it? Well obviously I couldn't.
'House of Cards' was one of those books that grabbed me from the start, as seems to be the case with me and Garrett Leigh stories. First off for me this was not a romance story...it was more...so, so much more. This was friendship, love, second chances, starting over all wrapped up in a beautiful gift of words.
When Calum Hardy's life takes a very rapid nose dive he gets on a train and heads out of London neither knowing nor caring where he's going. When Brix Lusmoore spots a familiar form at Truro station it doesn't really enter his mind not to stop. It's been years since he's seen Calum but he'd know him anywhere. Calum's hit rock bottom both in his life and in the bottle he's been consoling himself with on his train ride to who-know's-where so he's pretty sure he's imagining seeing the friend who disappeared from his life years earlier the friend he's missed every day since.
Brix loads Calum into his van and takes him home but for Brix and Calum this is only the beginning. Both men have a lot to sort out and work through before they can find their way home to each other.
I loved, loved, loved everything about this book...well, everything except Rob and Jordan they can go die in a fire both of them. They are the dickiest of dicks...yep, I hated them both.
Ok enough of that on to better things like Calum. He's so broken seriously, I didn't think a vat of crazy glue was going to put him back together but still there was also such a sweet and decent man there. Thank heavens Brix is better than crazy glue, but sadly he's got his own problems and issues and yet, he's got a strength of character that's amazing. He's a fixer, a nurturer. He takes Calum back into his life and he gives him the a home and the strength to he needs to start rebuilding his life and in doing this he finds the strength to begin fixing his own fragmented life.
As well as Calum and Brix there's a wonderful collection of characters in Porthkanneck who definitely keep life interesting, so needless to say I was more than a little happy to learn that book #6 in the Porthkannek series will be Kim's story. We met him here in 'House of Cards' and I have to admit the blurb for his book promises to be every bit as good as this one.
'House of Cards' is a story that will make you both smile and cry. It will leave you wishing that you could visit this quirky, fictional place where people can nurse their wounds and make themselves whole again and at the end of it all it'll leave you feeling like you went to Porthkanneck without leaving your favorite reading chair.
********************


A copy of 'House of Cards' was graciously provided by the publisher via NetGalley in exchange for an honest review.
Buy the book:
Reading gives us someplace to go, when we have to stay where we are. (Mason Cooley)
Buylinks are provided as a courtesy and do not constitute an endorsement of or any affiliation with this book, author or booksellers listed.