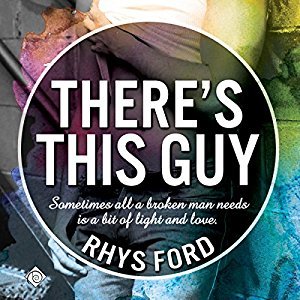 From The Blurb:
How do you save a drowning man when that drowning man is you?
Jake Moore's world fits too tightly around him. Every penny he makes as a welder goes to care for his dying father, an abusive, controlling man who's the only family Jake has left. Because of a promise to his dead mother, Jake resists his desire for other men, but it leaves him consumed by darkness.
It takes all of Dallas Yates's imagination to see the possibilities in the fatigued Art Deco building on the WeHo's outskirts, but what seals the deal is a shy smile from the handsome metal worker across the street. Their friendship deepens while Dallas peels back the hardened layers strangling Jake's soul. It's easy to love the artistic, sweet man hidden behind Jake's shattered exterior, but Dallas knows Jake needs to first learn to love himself.
When Jake's world crumbles, he reaches for Dallas, the man he's learned to lean on. It's only a matter of time before he's left to drift in a life he never wanted to lead and while he wants more, Jake's past haunts him, making him doubt he's worth the love Dallas is so desperate to give him.
Listening Length: 7 hours and 30 minutes
Karen's rating:
E-book or audio, I love this book...
I had the good fortune to review this back in March of this year when the e-book was released and when the opportunity to review the audiobook narrated by Greg Tremblay became available I was all over that baby. I love this book...the story simply melts my heart.
Whether it's a song or a favorite sweater, the car we drive, or the person we snuggle up to in bed a night we love who and what we love and there just doesn't have to be a rhyme or reason for it and I love this book.
And as is the case more often than not with a book that I loved my review was long and as far as I'm concerned my feelings about this one haven't changed so, if it's not broke let's not fix it...
Original Review: There's This Guy by Rhys Ford
Now about the audio portion of this review...as I said it's narrated by Greg Tremblay and quite honestly he's awesome and while I've listened to a few books narrated by Mr. Tremblay, I think this one might very well be my favorite. I love the voices that he gave to the characters especially Dallas and Jake. Dallas had a bit of a slow southern drawl in his tone with a an underlying silky smoothness to it that at times just had me sighing in contentment, I loved Dallas's voice.
Let's see if I can explain Jake's voice. Interestingly enough Jake's voice was my favorite and for a big convoluted reason that I'm not going to bore you with...we're going to suffice it to say I am Canadian I've spent time in most of our provinces and while I found Jake's accent to be more reminiscent of someone from the Maritmes than Quebec...I care not. I loved the sound of Jake's voice and I love how expressive it was because that far more indicative of the french Canadian language no matter what part of Canada it's found in. So did I feel like Jake's accent was reflective of someone who spent time growing up in Montreal...maybe not so much, did I like it...hell yeah! because it still felt Canadian but most of all it felt right for the character. 'There's This Guy' started with 5 stars and for me the audiobook finished with 5 'I love it even more' stars.
*********************


An audiobook of 'There's This Guy' was graciously provided by the publisher in exchange for an honest review.
Buy the audiobook:
Reading gives us someplace to go, when we have to stay where we are. (Mason Cooley)
Buylinks are provided as a courtesy and do not constitute an endorsement of or affiliation with this book, author or booksellers listed.