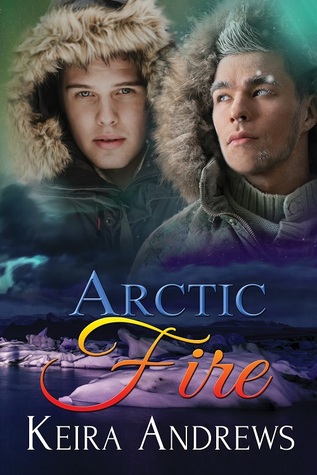 From The Blurb:
When two strangers are trapped in a blizzard, heat rises.
Haunted by what he lost in Afghanistan, Captain Jack Turner is at a crossroads. While the last place he wants to go is the Arctic, at least the routine mission gets him out from behind his new desk. But he starts off on the wrong foot with the Canadian Ranger guiding him across the forbidding and dangerous land, and Jack would rather be anywhere than sharing a tent with Sergeant Kin Carsen.
The Arctic is in Kin's blood, and he can't seem to leave the tundra behind. He wishes he could live openly as a gay man, but the North isn't as accepting as the rest of Canada. Although he's lonely, he loves his responsibility as a Ranger, patrolling the vast land he knows so well. But he's on unfamiliar ground with Jack, and when they're stranded alone by a blizzard, unexpected desire begins to burn. Soon they're in a struggle to survive, and all these strangers have is each other.
Note: This gay romance features emotional repression, hurt/comfort, adventure on the tundra, and love where you least expect it.
Arctic Fire first appeared in the military bundle Unconditional Surrender in 2014.


Karen's rating:
I'm pretty sure that I haven't read as many Keira Andrews books as some of my friends and while part of the reason I wanted to read this one was the author, I have to honestly admit an equally big part of that reason was because this book takes place in Canada. It's set in the part that's north of the Arctic Circle...that part that is really, really cold...as in I'm not even sure I can explain how truly cold this place gets in the winter...but it's Canada and as a Canadian I love this country...all of it and Nunavat (I know bad pun).
So as soon as I realized this I was all about reading this one. Now about the story. Jack and Kin meet when Jack is sent to northern Canada to do a report. Jack's been drifting and feeling a bit untethered since returning from Afghanistan. He's lost someone close to him and hasn't really dealt with it or the feelings of guilt that he's carrying around. Kin's not doing much better carrying around his own load of guilt over someone he's lost. Needless to say when these two meet there's a bit of a clash. Jack doesn't really see his assignment as constructive, Kin loves where he lives and wants to protect it not only from external forces but from poorly executed government projects. It's cold and at first glance may seem desolate but for Kin it's home, this place is in his blood.
In spite of their initial meeting as Kin takes Jack out on a patrol of the area and they spend time together they become drawn to each other and discover that whatever their differences may be they also have much in common.
This was a short story with a lot of emotion and a surprisingly well done slow burn. I say surprising because really with less than a hundred pages I had expected things to progress faster than they did but for me the speed at which this relationship progressed was comfortable and felt right, I really enjoyed it...well, everything except the raw seal...sorry, never going to happen.
The other part of the story that I really liked was the way that the author depicted life in northern Canada. Life in northern Canada is hard, the land is harsh and can be very unforgiving but at the same time it can seep into a person's heart and become a part of you and I felt those things while I read this story it was there in Kin both in the what he said and did and at the end it was also reflected in Jack.
While the story left Jack and Kin in a pretty good place with what felt like a very definite HFN that could easily lead to an HEA, I would happily read more.
********************



A copy of 'Arctic Fire' was graciously provided by the author in exchange for an honest review.
Buy this book:
Reading gives us someplace to go, when we have to stay where we are. (Mason Cooley)
Buylinks are provided as a courtesy and do not constitute an endorsement of or affiliation with this book, author or booksellers listed.