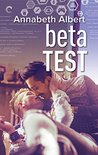 From the blurb:
Brilliant graphic designer Ravi Tandel is ahead of the game—he's just been asked to present a top secret project at a huge conference in Seattle. All systems are go…until he learns his buttoned-up office nemesis is coming along for the ride.

Tristan Jones isn't really the gamer type, but he knows the back end of the video game business inside out. Together, he and Ravi will give an awesome presentation. If they survive the cross-country trip first.

Tossed together in close quarters, Ravi's shocked to see Tristan's sexy, softer side emerge from such a conservative shell. He's less shocked to learn his handsome colleague's prominent family would never support an out-and-proud son. But Ravi didn't struggle through his own coming out to hide who he is now. To be together, Tristan will have to push past his fear and ultimately decide: Does he want a future with Ravi? Or is it game over before they've even begun?
Heather's rating:
I really, really love
Annabeth Albert
, and I'm SO pleased with her newest story in the fab #gaymers series. This is another great story for those of us who LOVE
geeks, opposites attract, and slow-burn romance.
Where Tristan is quiet, obsessively organized, and introverted, Ravi craves people and energy. Ravi is a big explosion of life and brightness, and Tristan is a harder nut to crack. I was curious as to how
Annabeth Albert
was going to bring these two guys together, but she did in a glorious, sexy, intimate way.
This book centers around standing up for who you are, especially with outside pressure from
families
. Ravi's traditional Indian family are in denial about him being gay, and Tristan's conservative family wants him to keep it under wraps in public. Both men are struggling with the expectations of their families, and though family angst stories don't usually appeal to me,
Annabeth Albert
made this one really compelling.
What I loved the most was seeing Tristan break out of his shell. He was put down by his previous boyfriend, and his self-esteem is in the tank. It was amazing watching him come alive with Ravi, and the sexy-times scenes that they had together were suuuuper hot. I love when a shy guy just comes unraveled!
Though this book is part of a series,
it works well as a stand-alone
. This one is for fans of low drama, opposites attract, and nerdy men who are passionate about their jobs. And I, for one, am a huuuuuge fan.
**Copy provided in exchange for an honest review**
Happy reading!