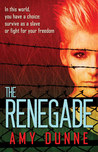 Blurb:
In this post-apocalyptic world, you have a choice: survive as a slave or fight for your freedom. The Red Death pandemic wiped out most of the human population, and the world that remains is dangerous and unforgiving. Survivor Alex Clarke and her companions are rescued after a vicious attack and welcomed into the Rapture's Haven Camp. Although given medical treatment, food, shelter, and protection, Alex senses something sinister lurking beneath the camp's friendly exterior. Camp medic Evelyn Bennett is instinctively drawn to Alex and warns her that the camp is a dangerous cult and the women are slaves. While planning to escape, their secret relationship is discovered. Escape is no longer possible. They must fight for their freedom - or die trying.
Arielle's rating:
Let me preface this by saying that I love post-apocalyptic novels and TV shows. Love them. So I was really excited to read The Renegade! Unfortunately, it just didn't last.
The first scene opens up with Alex Clarke (I swear, Alex is the most common protagonist name in lesbianish novels) watching her father die of the Red Death, a sickness that wiped out most of the life on Earth (no spoilers, promise). Once he kicks it, Alex takes off on her own - running into the exact sort of problems you'd expect a woman to face in a dystopian universe when manners and decency go out the door.
First, she gets attacked by a group of guys that want to rape her. Not my favorite scene, I'll tell you that much. But it does spark a good idea: Alex better butch it up if she doesn't want to get into that sort of mess again. She cuts her hair, finds some manclothes, and sets out again with a puppy that she saved in tow (arguably, my favorite character in the book).
Through a long series of events, Alex, the dog, and a man named Murphy (whom Alex befriends) wind up at what I can really only describe as a religious nutjob paradise. Women are kept for birthing children, serving, and general abuse. Men are soldiers who search for survivors. Alex's love interest, Evelyn Bennett, is the church camp's medic.
And this is where the book lost me - I'm...not really one for religious overtones OR undertones. I grant you, this is a very personal preference even though it did add to my general blahness about book. I think it has been done and overplayed. I also recognize that in the world that the author crafted, it's probably not that far fetched.
The thing that did me in with this book, though, was the relationship between Alex and Evelyn. I just found it...boring. It could have been the saving grace of the book, but it just fell flat. There was no steam. It almost felt like...oh, you're gay? I'm gay. Maybe...do you think...should we be gay together? Great!
I don't know that I'd recommend this to friends - but a firm 2 stars for the puppy and Murphy, both my favorite characters.
Thank you to Bold Strokes Books for the copy on NG! And please note: no positive reviews were guaranteed for a copy of this book!
Buy the book:
Thanks for reading my review! Until next time!
Buylinks are provided as a courtesy and do not constitute an endorsement of or an affiliation with this book, author, or booksellers listed.