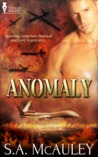 From the blurb:
When Staff Sergeant Galen Welc is handed Temporary Additional Duty orders that move him to the Marine Corps base at Twentynine Palms, he thinks he's prepared for what's to come. Known for his uncanny ability to spot improvised explosive devices, he's pitted against the latest in defense technology. He trusts his instincts and his training, but they may just be leading him somewhere—and to an explosive reaction with someone—he could never see coming.
Heather's rating:
Rushed and sort of forgettable, this is not S.A. McAuley's best work.
I really like
S.A. McAuley
. I think she is super talented, and I like how she focuses on geeky men (I LOVE me a nerd!). What kills me is that this story had lots of potential. Parts of it really shone. I loved the dialogue and the little jokes between the two MCs, and I found myself grinning at times while reading. However, that was really the only highlight.
I think for me, the premise of this short story was just... off. Galen is known for his ability to detect IEDs, and I was expecting that fact to lead us to something BIG. Instead, that plot point sort of fizzled in the end. I found the whole thing to be really anticlimactic.
Same with the romance. There was a nice buildup and then... *meh*. The chemistry didn't quite connect and something just felt incomplete.
I know that stories at this length are difficult to pull off, but I still wanted more out of this one.
**Copy provided by the publisher in exchange for an honest review**
Thanks for stopping by!!