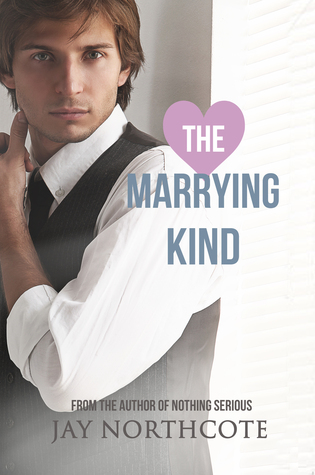 From the blurb:
Nathan wants to put a ring on it, but is Owen the marrying kind? Two years on from their first date, Owen and Nathan are living together and life is good—except they're not on the same page about marriage. A traditionalist at heart, Nathan wants it all: the wedding, the vows, and a pair of matching rings. Owen, on the other hand, believes marriage is old-fashioned and unnecessary. They don't need a wedding to prove their commitment to each other. Love should be enough on its own. All it takes is one moment of weakness on a night out to force the issue. Owen finds himself engaged after a half-drunk proposal, and Nathan's enthusiasm sweeps him along. But as the big day approaches, the mounting tension finally combusts. If he's going to save their relationship, Owen will need to decide once and for all if he's truly the marrying kind.
AnnaLund's rating:
Delicious revisit with a couple of favorite boys, Nathan and Owen, a couple of years down the line. I was very glad to see some more chapters about these boys, as I wasn't finished with them last time. In this story, they're trying to get hitched, and both hilarity and three seconds of angst appear. My favorite dosage.
It's a fine little book, indeed.
I'm hoping these two stories will be joined in one, single book of sweetness in the future, (the first book was called The Dating Game), because they are really two parts of a whole.
Oh, and beware, the drunken proposal. That made me laugh out loud.
Self-published, and both well-written and well-edited—the combo is as sweet as it is unusual.
Kudos, Northcote.
Again.
***
I was given a free copy of this self-published book from the author, who is a Twitter friend. A positive review wasn't promised in return.
Thank you for reading, hope you liked this review.
Buylinks are provided as a courtesy and do not constitute an endorsement of or affiliation with this book, author or booksellers listed.