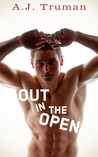 Blurb:
Libraries are meant for studying – not sex.

College sophomore Ethan Follett never says what's on his mind and never wants to rock the boat. After a high school social life spent anonymous and alone, things are finally falling into place for him. He's found a group of friends just as studious as he, and is on track for a promising legal career. Out in the open, things couldn't be better, but secretly Ethan yearns for some real excitement in his life.

He finds it in cocky fratboy Greg Sanderson, who challenges every rigid, preconceived notion Ethan lives by. Soon, their sparring relationship turns sexual, and these enemies-with-benefits get their freak on all over campus. Yet the more Ethan comes out of his shell, the more Greg retreats into his, working overtime to keep his ladies man public persona intact. As the sex gets hotter, and they get closer to getting caught, one part of their arrangement can't stay hidden any longer: love.
Todd's rating:
In my opinion,
this story captures the very essence of college being the place where you finally spread your wings and grow into (at least the beginnings) of the person that you will eventually become
. I had so many flashbacks to my own college days, it was sort of scary.
I felt an immediate connection with both
Ethan
and
Greg
, as I was sort of an amalgam of the two characters combined during my collegiate years.
I was more Ethan as a Freshman & Sophomore, being quiet and studious, longing for close friendships, but scared to let anyone know the real (pronounced "
gay
") me. [I may or may not have worn ties. *cringe*]
But I was definitely more Greg in my Junior & Senior years, joining a fraternity, finally loosening up a bit, drinking a lot and coming into my own. So no longer a GDI (fraternity-speak for "
God Damned Independent
"), I was at least more popular. [I may or may not have worn togas pretty regularly. *hiccup*]
But still, like Greg, no one really knew me at all and I was still (maybe even more) deathly afraid of acknowledging my attractions -- even to myself. Sad, lonely, depressing. Check, check, check.
So the book took me back to a place of experience that it may or may not take most readers, but I loved the story and deeply sympathized with the dilemmas on both sides of the Ethan and Greg coin.
The story of the uptight, nerdy law student and the infuriating, cocky frat boy may sound a bit cliché', but Truman definitely put a fresh, new spin on the genre.
I also found the supporting characters well written and welcomed, necessary additions to the story, each adding to the story line vs. just being distracting and unnecessary page fillers.
Also, amazingly so actually, the twist of our two heroes taking the entire campus and turning it into their own personal hookup spot only came across as necessary to the progression of this particular story. And
hot
.
Mustn't forget *HOT*, because oooooh, lawdy!
"
Bedrooms are so boring. They're not us.
"
Few writers could take Ethan and Greg's "out in the open" public trysts and
not
make them come across as only a plot gimmick to attract horny housewives (
and house husbands
) into the reading pool. But Truman did.
This book was pretty much perfect, especially as a first effort from a brand new author.
It was just so very good from start to finish.
Hell, most established authors don't usually get me as pulled into their stories as Truman's
Out in the Open
did.
So to quickly sum up my feelings on this sweet and sexy happily ever after in two words or less, I'll quote Greg's frat house '
roommate
', Sahil, and leave you with
"Yeah, Rainbow!"
My copy of this book was provided by the author for a fair, unbiased review.
Get the book:
Thanks for visiting our blog and I hope you enjoyed my review!
Buylinks are provided as a courtesy and do not constitute an endorsement of or affiliation with this book, author or bookseller listed.