Dreamspinner's CELEBRATE 2014
Advent Calendar Anthology
The Swag Man Delivers by Sean Michael:
Blurb:
Orpheus "O" Drummond, a recent Ph.D. graduate, is visiting Australia after defending his thesis, and being dumped by his boyfriend. While alone on the beach in Australia was not how he'd originally planned on spending his Christmas, when O runs into Gage, he figures Santa knew exactly what he was doing.

Gage is traveling away from his Texan home, trying to "find himself." When he finds O instead, he doesn't think things could have worked out better. Together Gage and O celebrate Christmas in the best way they can think of.
Heather's rating:
A satisfying little short... if you like your story to be about 80% sex!
Basically the plot is O meets Gabe on the beach on vacation over Christmas. They figure out that each other is gay... yada yada yada, they're banging like bunnies!
I think short stories are the hardest format because they don't give you a lot of wiggle room. You have to be very selective about what to focus on. I guess when push came to shove, Sean Michael decided that bedroom chemistry was the way to go with this one!
A nice rimming scene and a pleasant read, but nothing outstanding.
The Virgin Miracle by Rob Rosen:
Blurb:
Two strangers on a plane, one heading to Paris, the other Barcelona, both trying to get to their families in time for the holidays. It's Christmas Eve, and all they have in common is a connection through London. When flights get delayed and cancelled, that connection goes beyond an airport, a terminal, and a secluded meeting room. And for Lance and Bruce, Christmas morning will hold even more joyous miracles.
Heather's rating:
One of the worst things I've read all year.
This story was only 22 pages and I almost DNFed. So. Many. Issues. The prose was purple, the logistics made no sense, and the story wasn't interesting. I'll just have to explain the rest with a few quotes. I really think they speak for themselves.
He turned his head as I turned mine. I hadn't gotten a good look at him since we boarded in New York. A swarm of butterflies took wing from inside my belly as the sea of white gave way to endless blue with startling flecks of green.
Purple-licious.
Again he kissed me, warmly, passionately, deeply, our tongues doing an oral tango as his hand found my proffered prick.
The next one is one of my favorites. The two guys are in a airplane bathroom - keep that in mind while reading...
"Closer," I grunted, legs trembling as my prick shot, a massive load of come slicking through the air before hitting the water below in several loud plops. He tossed his head back a moment later, and I watched in rapt delight as his cock erupted, thick in my grip, a torrent of come that pooled with my own in the azure waters below.
The "azure waters"??? Are they talking about the airplane toilet water? Gross!
I removed my mouth. His cock now dripping with spit as it swayed there, he parted his meaty thighs and lifted them up again. His asshole winked out, all come hither like. Naturally, I came yon. I smacked the head of my cock against his waiting port. Down dripped the Purell...
Purell? As lube?! That stuff evaporates in seconds, by design! And doesn't that HURT? There is so much wrong in that quote.
I don't want to be mean, but this book was 22 pages of strangely written sex.
And not a real virgin to be seen. Drat
! I'd pass on this one.
Neighbors by Emma Wilson:
Blurb:
Ever since he moved to London, shy editor Eric has been watching his neighbor, Crooked Smile, jog every morning. Aspiring restaranteur Rhys eats breakfast by the window so he can see his neighbor, Bed Head, help the old woman downstairs clean off her car. When Eric's roommate unexpectedly returns home for the holidays, she realizes their idiocy and, with the help of Rhys's business partner, Andreas, tries to help both men see there might be more in their futures than they're seeing through their windows.
Heather's rating:
Pretty cute! It reminded me a bit of
How the Other Half Lives
. Neighbors who are attracted to each other but are too shy and intimidated to introduce themselves. All of the incorrect assumptions about each other were a tiny bit frustration, but I was still charmed.
Warning: Don't read this story if meddling friends irritates you. These guys are practically forced together by their friends. Sometimes that can irritate me, but I didn't mind it much here.
All in all, a sweet short, even though it ends just as the two guys are getting together.
Wait For Me by T.S. Morgan: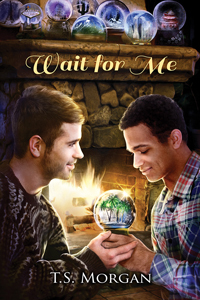 Blurb:
To fulfill his grandfather's final request, TJ Barclay travels to Scotland over Christmas to bury his ashes next to his lost love, so they can be together at last. While there, he meets Jamie, the orphaned grandson of the man his grandfather loved sixty years ago, before circumstances tore them apart. Concerned for Jamie, TJ can't leave Scotland without knowing he's all right. Neither man expected a love story from the past to ignite a new one in the present.
Heather's rating:
Noooooooo.
I had countless issues with this story.
First of all, an atrocious, insta-love, DOUBLE GFY! With no explanation. The guys were straight and then, BAM ---> Gay! I'm sorry, folks, you can't write GFY that way and expect readers to buy it. Yes, there is such thing as love and attraction that goes beyond gender but if you want readers to believe it, it takes some serious skill and effort. Add to that virgin sex off page and you've lost me.
The historical details were also a mess. I have no idea why the author set this book in 1989 when it could have easily be set in 2014. I had big issues with the guys using a surrogate in 1991 when the first recorded surrogacy was only in 1985 and wasn't widespread until over a decade later. Also, the free way that the grandparents discussed their homosexual relationship in letters in the early 1900s was farfetched at best. They would have most likely used code names or code language, not plainly stated everything.
Finally, I was bored by the story and I didn't buy it one bit.
I'm adding 1/2 a star because the beginning letter with the grandparents tugged at my heart a bit.
The Eve That Finally Happened by Diane Lennox:
Blurb:
After seven years in Canada, Korean native Jae-ho Kim still hasn't had the special Christmas Eve date night that he would have enjoyed back home—a fact that has his sister, Soon-kyu, very upset during their yearly phone conversation. This year, Jae's lack of effort concerning his love life comes back to haunt him in the form of Christmas Eve ghosts, showing him very vividly what will become of him if he refuses to take a chance and find a date for Christmas Eve.
Sandra's rating:
This short is a take on A Christmas Carol, with the MC Jae being sort of like Scrooge and getting visits on Christmas Eve from three ghosts. Can't say much more without spoilers, but this was rather cute.
I liked it, despite it feeling a little rushed (what with the word limit imposed by the publisher on all these stories) and despite the somewhat flat dialogue.
Home For Chirappu by Ariel Tachna:
Blurb:
Nikhilesh (Nik) Sharma hasn't been home to Alappuzha, India, since he came out to his family ten years ago. Now that his relationship with them is less strained, he's bringing his boyfriend Trent along to celebrate the winter holidays. As excited as he is to see everyone again, he worries the foreign culture, religious differences, and disapproval might shock Trent. At the same time, Trent worries Nik's big, close-knit family won't accept an American—much less a man—as Nik's partner and that his presence will impede the otherwise happy reunion. Whether the trip leads to misunderstandings that will drive them apart or to a new understanding that will draw them closer than ever, it's sure to be an experience they'll never forget.
Sandra's rating:
With this being easily the best of all the shorts I read from this anthology, Ariel Tachna delivers a fascinating glimpse into traditions in India around Christmas time, about the differences in culture and about the love of family.
This was a pleasure to read.
Trent and Nik live in Chicago, but are visiting Nik's family for the holidays. It's Nik's first trip home after coming out and leaving India, with the added stress of bringing home his boyfriend and introducing him to the whole family.
I can't speak to the accuracy of the descriptions of India and its culture, but it all sounded very believable and very well explained. I thought both MCs were realistic (and adorable), and the stress and strain they are under was believably explored.
This author is an experienced story-teller, and it shows.
Get all the books:
All books reviewed were graciously provided by the publisher.
Thanks for stopping by. Until next time, happy reading!
Buylink is provided as a courtesy and does not constitute an endorsement of or affiliation with this book, the authors or the bookseller listed.