In honor of today's release, we're celebrating K.C. Wells' new book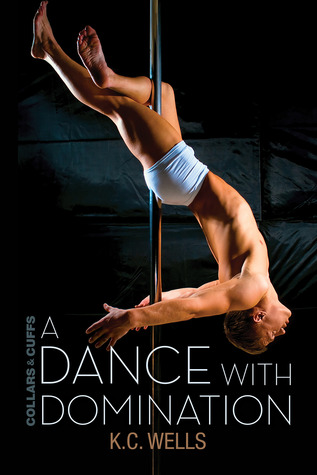 Blurb
:
Recently returned to the UK after living in the States since he was eleven, Andrew Barrett is determined to keep busy and make a new life for himself. He works full time as a copywriter and strips at a club on Canal Street on weekends. But it still leaves him too much time to think. Then he finds the BDSM club, Collars & Cuffs, where at twenty-nine, he is their youngest Dom. Young doesn't mean inexperienced, however. All this activity keeps him focused with no time to dwell on the past. But the past has a way of intruding on the present.
It's been four long years since Gareth Michaels last set foot inside Collars & Cuffs. But when he finally summons his courage and steps back into his former world, he finds the man who drove him away is still a member, and what's more, he wants Gareth back. Two men in pain need the freedom they find in each other, but it takes another man's horrific plans to make them see it.
Buy it:
A little excerpt from chapter 1
:
Andrew took a long drink from his lager and gazed around the club from his seat at the bar. Okay, so it was only eight in the evening, and the place had just opened, but the strip club was dead. Large TV screens displayed images of gorgeous, hot guys and what looked like a vintage porn film. There was one lone customer, sitting at a table near the stage nursing a pint and casting the odd glance at the dancer who was performing. And the less said about him, the better….
The mirrors around the back of the stage didn't enhance his performance either. His dancing could have been more polished, in Andrew's opinion, but it wasn't that which was putting him off. "Barry" was far too "in your face." There was no subtlety to his act whatsoever. This was only the first of his three songs, and already he had his dick out, waving it at his one and only patron. Yeah, about as subtle as a train wreck.
"You don't seem that impressed by our Barry."
Andrew turned from his perusal of the stage to look at the barman, and then he smiled. The guy behind the bar sure was cute. Petite, with big eyes and a sexy smile.
"Sorry if I gave that impression," Andrew said carefully. The direction his thoughts were going in right now, he wanted to keep on the right side of the staff. It might prove useful. "His act is… interesting."
The barman snorted. "That's one word for it."
Andrew's smile widened. "Look, I was trying to be polite, all right?"
His confidant grinned. "Appreciated." He tilted his head. "Are you from the States?"
Andrew groaned. Not another person who could hear that damned inflection. One of his Facebook friends, Kathy, who lived in Dorset, had told him the first time they'd Skyped that he definitely had this American twang to his accent. He hadn't heard it. But then a week later, during a conference call to London, someone else had told him the same thing.
"I'm originally from Bristol," he said with a quick smile, "but I've been living in the States for quite a few years. I've just moved back here from Atlanta."
The barman frowned. "Why on earth would you want to leave Atlanta to come to Manchester, of all places? I mean, I hear they have this huge gay community over there." He looked around the club with a smirk. "And there had to be better strip clubs than this." Andrew laughed. "Well, now that you mention it…."
The barman extended his hand. "The name's Kurt, by the way."
Andrew shook it. "Andrew Barrett."
Kurt's eyes gleamed appreciatively as he looked Andrew up and down. "Very pleased to meet you, babe." Andrew arched his eyebrows, and Kurt reddened. "Okay, so you're easy on the eye. Sue me, as they say over there," he said gruffly. Andrew chuckled. "How long have you been in Manchester?"
"Two weeks." Two long, dull weeks. It had been primarily boredom that had driven Andrew from his flat. A week into the new job, and things were going well. The McCann Manchester branch was going to be a challenge but nothing Andrew couldn't handle. Right now he was feeling antsy, and the discovery of a strip club on Canal Street in the heart of Manchester's gay village was too great an opportunity to pass up. His gaze went back to Barry, who had by now removed his long shorts and T-shirt and was swinging from the pole, center stage.
"God, he needs to work on using the music better," Andrew muttered to himself.
Movement behind the bar dragged his attention back to Kurt, who was staring at him. "You're a stripper." It wasn't a question.
Andrew was impressed. "How did you know?"
Kurt shrugged. "Just a feeling. And besides, I work with enough of them. You get a feel for the good ones." There was that deliberate inspection again. "And I get the feeling you're very good at what you do." He winked.
Andrew grinned. "You never know, you might get to see me in action one of these days."
Kurt's eyes lit up. Andrew took another drink from his lager and gave Kurt his full attention. He cleared his throat. "So tell me, is Canal Street a good place to work?"
Kurt nodded. "It's quieter during the week, but Fridays and Saturdays can get pretty manic. There are loads of clubs and bars, but so far, we're the only strip club. If you like dancing, I can recommend Babel. They get a good crowd, and it's always lively in there, no matter what day it is."
Andrew filed that tidbit away for future reference. He studied his glass before posing his next question. "What do you know of a club called Collars & Cuffs?" He kept his manner nonchalant.
Kurt became still. "Oh, honey. Is that what you're into?" Andrew said nothing. Kurt shrugged once more. "I've never been there—although I have been tempted, on occasion— but I know it's a fairly exclusive BDSM club, gay men only."
"That much I picked up online," Andrew admitted. "Does it have a good reputation? If I believe what I read, then yes. But I want to know from someone who lives here, works here."
Kurt gave a slow nod. "I've heard nothing but good stuff, to be honest. The two guys who own it apparently run a tight ship. I know fees are stiff, but they don't let just anyone in. I know a few mates who've tried to get in and haven't made it past their vetting procedures." That was music to Andrew's ears and exactly what he'd hoped to hear. Looks like a visit to Collars & Cuffs is on the cards, then. "I did see a few other clubs for the Manchester area, but this one had the best ratings."
Kurt met his gaze. "Yeah, well, one club shut down fairly recently. That was a bad business." Andrew tilted his head, and Kurt scowled. "Just don't ask. Those bastards needed to be shut down. That's all you need to know."
Before Andrew could say another word, he heard the sound of high heels clicking across the laminate flooring, followed by a low female voice beside him. "Is Barry still up there?" She sounded exasperated.
Kurt chuckled. "About to finish, he's on his third number now." He gave a nod toward Andrew. "Someone here I think you should meet, boss."
Andrew quirked his eyebrows but turned on his chair to face the speaker. He came face to face with a tall woman in a gray suit, blond hair immaculately set and perfectly applied makeup. She was regarding him quizzically. "Oh, really?"
Andrew held out his hand. "Andrew Barrett, new arrival to these shores."
She took his hand, her grip firm. "Always nice to meet a new customer."
Kurt chuckled. "Ah, but this is no ordinary customer. Andrew's a stripper."
Sandra's rating
:
This book had a very different tone and feel than the first two I've read (2 and 3), and it certainly surpassed the previous one.
We start out by being introduced to Andrew Barrett, a Brit who has recently moved back to the UK from Atlanta and is employed as a copy writer but looking for a second job to make extra cash. An experienced stripper, he auditions for the bar's owner and is hired on the spot. Then we find out that Andrew is also a Dom and interested in joining Collars and Cuffs, one of the local BDSM clubs.
The first half of the book deals with establishing Andrew as a character, as we get to reconnect with the previous books' characters, such as Thomas (book 2) and Leo (Book 1), as well as Ben (Book 3), and their respective partners. We're also introduced to Gareth Michaels, who works in the same strip club as Andrew, and who used to be a sub and member of C&C but hasn't been back in four years after his last D/s relationship ended badly.
With skill and precision, KC Wells creates the background for the developing relationship between Andrew and Gareth, even though we don't get to see the bulk of their interactions until after the 2nd half.
I found it interesting how both Andrew and Gareth were able to mostly separate their working relationship from their personal relationship, including the D/s relationship they enter into by the end of this book. What I also liked in this book was the hurt/comfort aspect, with Andrew's grief from losing his previous lover/sub, no matter how long it had been at that point. I thought that the author did a very good job separating the needs of the Dom and the man from the grief of the lover, meaning he could be a Dom and he could have sex with another man, but not at the same time, as that was something he kept sacred as part of the grieving process. When Andrew reaches the acceptance phase of his grief, and reaches out to Gareth, I might have shed a tear.
What I also very much appreciated was the exposition on the differences between gay D/s and het D/s - that was a fascinating lesson and completely rang true. I'm not in the lifestyle, so my personal knowledge is limited to what I've learned from other books and the interwebz, but Andrew's insights seemed logical and realistic.
Even though there are only a few sexual scenes between Andrew and Gareth, and only one that shows them in their D/s roles, it fit the circumstances of this story, and I didn't need more than what we were given. I liked the hopeful ending, and was happy that both men got another chance at happiness.
What bothered me, and the reason for my not giving more than 4 stars, was the unresolved side plot with Craig Fox, Gareth's former Dom, who's portrayed as a spoiled asshole and then turns into a sociopath. The abduction and attempt to terminate Andrew was a bit far-fetched for my taste, and the people involved in this endeavor were made to look like bumbling fools. I didn't appreciate the fact that this entire plotline was ultimately dropped without a real resolution.
As a side note: I don't usually pay attention to covers all that much. Some are nice to look at, and some are not, but normally, my reading choices are based on the blurbs, not the covers. In this particular case, the cover puzzled me because the guy seems to be suspended midair, with only his legs around a stripper pole that seems to go halfway through his ass, and his hands grabbing on to nothing. I didn't figure out what bothered me so much until I saw the same image of the man with his legs and hands wrapped around silken rope, which fit the position seamlessly, unlike the pole used in this image.
[K.C. Wells let me know that the image was originally taken as it is on this cover, and that the silk rope image I saw was the photoshopped version. As we strive to only bring you accurate information, this review has been updated accordingly.]
In conclusion, this 4th installment of this series was much better than Book 3 (which I didn't like much because Ben is an ass for most of it), and on par with the emotional connection I made with Book 2. I haven't read the first book (Leo and Alex), but I feel that I know enough of their story through the other books. KC Wells does a great job pulling the reader into the story, and skillfully creates fully dimensional primary characters that you can't help but care about.
I don't know if this is the last of the series, or if there's more to come from the Collars and Cuffs club, but if it's the latter, count me in.
** I received a free copy directly from the author. A positive review was not promised in return. **
About KC Wells
:
Born and raised in the north-west of England, K.C.Wells always loved writing. Words were important. Full stop. However, when childhood gave way to adulthood, the writing ceased, as life got in the way.
K.C. discovered erotic fiction in 2009, where the purchase of a ménage storyline led to the startling discovery that reading about men in love was damn hot. In 2012, arriving at a really low point in life led to the desperate need to do something creative. An even bigger discovery waited in the wings – writing about men in love was even hotter...
K.C. now writes full-time and is loving every minute of her new career. The laptop still has no idea of what hit it... it only knows that it wants a rest, please. And it now has to get used to the idea that where K.C goes, it goes.
Thanks for stopping by. Until next time, happy reading!!
Buylink is provided as a courtesy and does not constitute an endorsement of or affiliation with this book, author or bookseller listed.