Today, we welcome Karen Booth and her latest novel, Bring Me Back.
From the blurb
:
Music critic Claire Abby is a single mom dreading her daughter's departure for college and worried that turning forty will leave her career running on fumes. She's floored when she lands a Rolling Stone cover story on 80s British rock legend Christopher Penman. She spent her teenage years fantasizing he was her boyfriend. In person, Christopher is everything Claire feared he'd be—charming, witty and unwilling to address the rumors he's dodged for a decade. Still, she contains her adolescent fantasies and manages to earn his trust, unearthing the truth and the devastating secret behind it. His blockbuster story is her first priority when she returns home, a nearly impossible task when Christopher starts calling and flirting. She knows she should maintain a professional distance. She knows she should focus on the story. She knows it would be best to simply walk away. But how can she say "no" to the man she could never forget?
Author's Website
Karen is giving away one electronic copy of her back list, winner's choice. Enter the raffle for your chance. Good luck!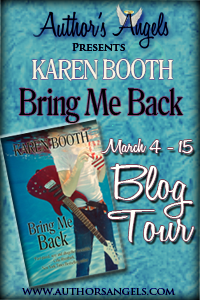 Additional Tour stops:
3/4/13
Mrs Condit & Friends Read Books
Talk Supe
Stitch Read Cook
3/5/13
Hesperia Loves Books
AJ's Reading Nook
Lori's Book Blog
3/6/13
Smardy Pants Book Blog
.
Musings From An Addicted Reader
A Little Fiction of Every Flavour
3/7/13
Heart Braking Reviews
Cocktails and Books
Melinda Doizer Contemporary Romance Author
3/8/13
My Fiction Nook
Black Raven Erotic Cafe
Scorching Book Reviews
3/11/13
Sultry Storyteller
Read Your Writes Book Reviews
3/12/13
Queen of the Night Reviews
Scandalicious Book Reviews
3/13/13
Manic Readers Guest Author Blog
Harlie's Books
Bookworm Brandee
3/14/13
Brunette Librarian
StoreyBook Reviews
Simply Ali
3/15/13
Love Romance Passion
Tina's Book Reviews
Guilty Pleasures Book Reviews
Thanks for stopping by. Until next time,
Buylinks are provided as a courtesy to the reader and do not constitute an endorsement by this blog or its owner.